January 8–March 31, 2018
With such anthropomorphic anatomy as spines, heads, fronts, and backs, books are conceptualized as bodies. Their covers are discrete surface boundaries, giving books the properties of interiority and exteriority. Both books and bodies become entities by which we structure and understand our world and ourselves. This exhibition presents a small selection of the many books held in the Haas Arts Library Special Collections on the subject of bodies. 
Image copyright Pati Scobey. Used with permission.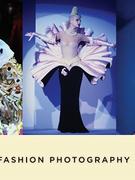 Yale Library now provides access to the Fashion Photography Archive, searchable through the Bloomsbury Fashion Central platform (which includes the Berg Fashion Library). This means that 250,000 fashion photographs spanning the 1970s-2000s will now appear in searches alongside encyclopedia entries, academic articles, e-book chapters, and historical fashion images, with more to come in future updates until 750,000 images are included. An interactive timeline displays these images with contemporaneous historical and cultural events and lets you expand to see other images from the same runway collection, designer, etc. Valerie Steele (who got her Ph.D. here at Yale, studying the history of the corset) is the editor-in-chief of the FPA collection, and Niall McInerny, who photographed fashion for four decades, is the photographer.