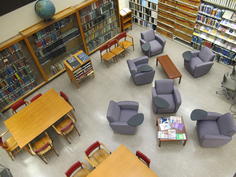 Location
Geology Library, Room 328
210 Whitney Avenue
The Geology Library collects materials in the fields of geology, geophysics, geochemistry, paleontology, meteorology, and oceanography. Special collections include most Yale University dissertations on geology after 1963 and a large collection of geological maps, chiefly those published by the U.S. Geological Survey.
Geology Library Map Collection
The Geology Library's map collection supports research in the geosciences at Yale, with an emphasis on current and past Earth systems. Map topics include geology, natural resources (including mineralogy and petroleum), hydrology, soils, vegetation, and some topography. Patrons may access maps in-house only. While the Geology Library's map collection has no scanning services on site, patrons will be offered alternative scanning options when possible. Please direct any questions to the service desk or consult the Geology subject liaison.
Hours