Connexion/Voyager: UNICODE Settings
To: Technical Services Staff
From: Patricia Thurston
Date: (Oc10/31/2006 issue date/ 05/16/2008 4:23 PMrevision date)
---
Hello All.
Please read this important message (unless you catalog in East Asian scripts - i.e. Chinese, Japanese, Korean characters. If you catalog in East Asian scripts, you may delete this message!).
For all Connexion client users (except East Asian):
We need to change our clients so that they are UNICODE compliant. Please feel free to make these changes yourself, or consult your expert user.
In OCLC Connexion:
1. Launch the OCLC client (no need to log on; simply double-click the little icon to make the program window appear)
2. In the menu bar, go to "Tools".
3. Under "Tools", go down to "Options", and select the "Export" tab. The window should look like this. Click on the Record Characteristics button.
4. The Record Characteristics window will open. Make sure the Character Set for Bibliographic Records and Authority records has been set to UTF-8 Unicode.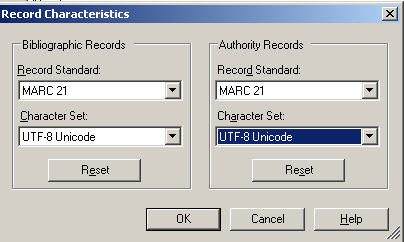 Click the "OK" button to close the Record Characteristics window, then click the "OK" button of the Options window and you're done with the Connexion client!
[Before closing the Options window, you may want to update or verify the Field Export options by clicking on that button. See CONNEXION: Setting Export Options.
Now go to your Voyager Cataloging Client (this part is very very very important!)
1. Click on "Options" in your toolbar, then select "Preferences".
2. Click on the "mapping" tab.
3. In the "local import" box, select "MARC21 UTF-8". The box should look like this:
 4. Click "OK", and Voyager is set to go. You're done.
Congratulations! You'll now be exporting in UNICODE!
Please feel welcome to contact me with any questions.
 
Last modified:
Monday, August 31, 2015 - 4:46pm