September 2015
Steve Gates gift to name the conservation laboratory the Stephen F. Gates '68 Conservation Lab at the Center for Preservation & Conservation, 344 Winchester Avenue is announced.
Summer 2015 - Department Move Delayed
  Due to construction related issues with the new Preservation Department facility at 344 Winchester, Conservation & Exhibit Services, Preservation Services, Digital Preservation Services and the preservation administrative office will NOT be moving on July 6th.  At this time the move is scheduled for July 27th. 
  Please note that binding and conservation units are not receiving any materials until further notice.
Spring 2015 Preservation Newsletter
The New Center for Library Preservation & Conservation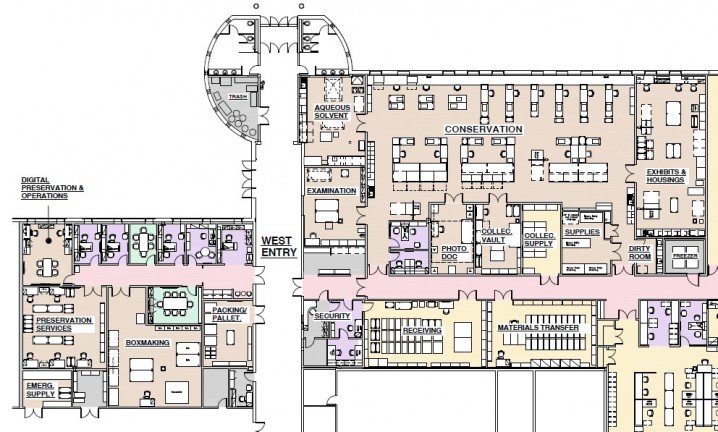 Brown shaded areas are the new Center for Library Preservation & Conservation
Come July 6th the Yale University Library Preservation Department will be moving into new quarters located at 344 Winchester Avenue, New Haven, one mile from Sterling Memorial Library.  This state-of-the-art work environment will provide a large contiguous space for conservation activities and put the other Department units—Preservation Services, Digital Preservation, and Digital Reformatting & Microfilm Services—on a single floor within a short distance of each other.  The total floor space of the Department will thus increase from about 7,800 square feet to over 15,000.  The new space has been designed to minimize environmental risks to materials—no overhead water pipes and good temperature and relative humidity control of all the spaces.  In addition, the new space is adjacent to the Beinecke Rare Book & Manuscript Library's Technical Services and 'just down the hall' from where the Yale University Library Technical Services Department will be moving December 2015.  This will enable an easier partnering with these departments in the care of both special and general collection materials.
Conservation
Aqueous & Solvent room
Dates to keep in mind with regards to sending material to Preservation:
Friday, May 29, 2015:
Last day to forward general collection/circulating materials to Preservation Services for Commercial Binding and to Conservation & Exhibitions Services for treatment or housing; this includes:
materials identified as damaged by Circulation Department or Technical Services Department staff
This does not include:
materials sent to CMS for additional cataloging
Audio-visual materials being sent to Digital Reformatting for treatment by vendors
Previously scheduled or planned work such as loans or exhibitions
Monday, June 1, 2015:
All materials in Conservation & Exhibition Services (B-5, B-18, 1MB) from any of the special collections will be returned by this date to the respective collections.
Monday, June 1, 2015 – Friday, July 10, 2015:
No materials should be sent to Preservation Services or Conservation & Exhibition Services (B-5, B-18, 1MB)
Monday, June 22, 2015:
A reminder will be sent out to YULib as to when to start sending materials to Preservation. 
Monday, July 13, 2015:
Begin sending general/circulating collections to Preservation Services. New instructions for sending materials to 344 Winchester for Preservation Services can be found here.  Look in upper left under FAQs on this LibGuide.
Special collection materials for Conservation & Exhibition Services will continue to be arranged and scheduled with each collection.  Instructions for the transport of special collections materials are in the works and will be provided in the coming months.  Staff will contact the collections liaisons when the labs are set-up and ready to accept special collections.
For further information check out the CES blog.
-----
Dawn of the ICE Age
By Robert Klingenberger, Head, Digital Reformatting & Microfilm Services
I have been asked to summarize the Digital Reformatting & Microfilming Services' new workflow tracking system, Item-Condition-Event, aka ICE in about a 1,000 words. For those who know me, you will appreciate that I find it easier to reply with everything I know about a topic than to judge what others will find interesting and to say only that. With the benefit of writing where I can edit, delete, and rewrite I now take a shot at giving a summary in the allotted space.
The name: Originally ICE stood for Item Condition Evaluation. The tool starts with an assessment of an item's physical state of disrepair or current condition. That item can be a book, any audio-video format or microfilm. The tool, however, is meant to track the whole reformatting process by means of a series of actions such as Search, Digitize, Reprint, House, and/or Transfer to LSF, etc. That series of actions performed on that item constitutes an "Event". Months or years later that same item may return to Preservation because of some new condition which will result in a new preservation event. The workflow tool thus tracks each Item, records its Condition, and maps out the optimal series of actions or the Event, hence I-C-E.
The purpose: During the 2013 and 2104 fiscal years, the reformatting unit handled the digitization of 2,296 bound volumes; did quality control on over a half million digital images requiring nearly seven terabytes of storage; acquired digital surrogates through HathiTrust or the Internet Archive for 1,394 more volumes; acquired microfilm for 50 serial titles; and arranged for the microfilming of 18 more titles consisting of 252 volumes.
In addition to the preparation, shipping, quality control, and return of the original materials, the reformatting unit also handles the creation of catalog records for microfilms and digital files that are a result of the reformatting process.  This includes e-variant records for digital assets. For serial titles that we microfilm, there are three new bibliographic records for each title representing the Master Negative, Copy Master, and Positive reel sets. During the same two-year period the unit's two Catalogers created over 3,100 new bibliographic records; updated holdings records 4,700 times; and added 1,240 hyperlinks for digital assets.
The benefits:  The staff time which was previously required to simply keep track of the thousands of items which pass through the reformatting unit each year was staggering. Add to that 1)the need to keep careful records of the quality control process for each output (master files, processed files, OCR results, etc.) of each item and 2)the monthly shipments of books and 3)AV materials to any of up to a dozen vendors and the need for a tool to manage this become evident.
Since its launch on October 1, 2014, staff have imported more than 5,000 item into the database including books, pamphlets, and microfilm reels requiring duplication. Of those, our student employees have searched more than 3,700 items for Yale duplicate copies, digital versions or microfilm as well as WorldCat, Internet Archive and HathiTrust. Because the Library collectively determined that all items need a good record before a derivative bib record can be created from it, the strict requirements that ICE enforces have resulted in more than 2,000 catalog records waiting for attention. The need may be as simple as an LC Call number or a subject term.
While most of those items are waiting for the careful attention of staff from Cataloging and Metadata Services, Preservation Services Librarian, Tara Kennedy, with the help of Martha Horan, Preservation Librarian, have together made decisions on the best course of treatment for nearly 500 items.
In addition to the items which have entered ICE through the "front door" via the Import form, we are in the process of importing about 7,000 items from the spreadsheet tracking system we have used for the past two and half years. The experience gained moving from a paper form based tracking system to an electronic one greatly assisted the process and enabled a smoother move to the ICE database. Staff have been adding input and testing the system from the inception. Stephanie Sherry, Agnes Wnuk, Edith Fortes, and Jef Wilson as well as invaluable input from Tara Kennedy and the student employees, Sara Misgen and Caitlyn Ferrell, have made this evolution possible. The years of experience and the variety of knowledge they possess have been instrumental to the success of this new workflow tool and the more efficient practices which its creation and use has helped us to recognize.
----
Library's Audio-Visual Inventory
The Library is about to undertake the first phase of a two phase project to inventory its unique audio-visual (AV) collections.  The goal of the phase one is to identify how much of what formats are in the music, divinity, arts and medical collections and get a general sense of the condition of these materials.  AV media is particularly at risk due to technological obsolescence and/or failure of the support media. It is acknowledged that AV collections deteriorate more rapidly than paper-based collections.  In addition there is the matter of expertise, documentation, parts for obsolete playback equipment all disappearing.  AV industry experts agree that there is perhaps 10-15 years remaining before moving AV content to digital formats will become economically, physically and/or technically unrealistic.  Some formats are more vulnerable than others.  Therefore, knowing what type of formats and in what collections will help the Library set priorities for addressing the preservation needs of the Library's AV collections.
With the assistance of Audio-Visual Preservation Services (AVPS) the inventory project will begin on May 27th and run through August 12th.  AVPS is a NYC based consulting firm specializing in software development and the long-term use, distribution, production, education and research of media.  The project will have an onsite supervisor from AVPS and nine students to carry out the inventory which is a two-step process—photographing the various media and related containers, then entering basic bibliographic data and the type of media into the survey tool developed by AVPS.  Roberta Pilette, Preservation Department Director, and Martha Horan, Preservation Librarian, will be co-managers for the project.  Most of the operation will be based in the two Music Library classrooms.    
Using what we learn in the course of this project both in terms of organizing and managing the project, phase two will be planned for a later date.  Phase two will look at the unique audio-visual materials held by Manuscript & Archives. 
-----------------------------------------------------------------------------------------------------
Winter 2015  Preservation Newsletter
Conservation & Exhibit Services Blog
The Preservation Department announces the creation of a new blog and Facebook page for Conservation & Exhibition Services.  Both new social media outlets will offer a behind the scenes look at the work and activities of the Library's conservation and exhibition support laboratories.  The blog will include a special series of posts, "Winchester Countdown," that will give a preview of our new spaces and how those spaces will enhance our work on behalf of the Library, the use of its collections, and interactions with the campus community.
----
Preservation Department on the Move
The Preservation Department is preparing for their moves to 344 Winchester.  The use of the plural 'moves' refers to the fact that the department will move in two stages.  Starting July 6th the preservation administrative office, Preservation Services, Digital Preservation Services, and Conservation & Exhibit Services will move into a new custom designed facility adjacent to the Beinecke Rare Book & Manuscripts' technical services area, 344 Winchester.  The second move is scheduled to occur in December 2015 when Digital Reformatting & Microfilm Services joins the rest of the department at 344 Winchester. Read more here.
With the moves will come slight pauses in services.  We will be letting affected areas know about service interruptions well ahead of the periods and sending out reminders.  For the first set of moves in July, the following dates are important to keep in mind:
Binding
Last day to send for binding for FY15 is Friday, May 29
First day to send for binding in FY16 is Monday, July 13
General Collections
Last day to send general collections materials for conservation treatment or housing is Friday, May 29
Special Collections
All special collection materials for conservation treatment or housing will be returned to their collections by Monday, June 1
-----
Digital Preservation Services
Save File
By Charlotte Abney Salomon, Ph.D student, History of Science & Medicine
Yale's digital preservationists work to keep aging media readable
The writer Tony Geiss helped to create some of the most iconic children's entertainment of the past thirty years, co-writing "An American Tail," "The Land Before Time," and thirty-six years of Sesame Street. During his career, he invented the Muppet monsters Abby Cadabby and the Honkers, co-created the segment Elmo's World, and shared 22 Emmy awards for scriptwriting. Geiss died in 2011 at the age of 86. The executors of his estate also donated Geiss's Apple Hard Disk 20SC, a twenty-five-year-old external hard drive about the size and shape of a cereal box containing several years' worth of scripts, projects, and personal files from the late '80s and early '90s. The task of finding out what was on the drive and preserving it fell to Gabriela Redwine, Beinecke's digital archivist. Tony Geiss's hard drive is one of thousands of pieces of digital media found in the libraries at Yale, including documents, programs, video, music, and games created and stored as computer files. Read how the library is approaching this preservation challenge.
----
Department Annual Report
The Preservation Department's 2013-14 annual report is now available here on the web site. 
-------------------------------------------------------------------------------------------------------------
Fall 2014 Preservation Newsletter
Stories on the conservation of ancient papyri from th Yale papyri collection and 'Preservation & Sustainability: a case study in HVAC management for library collections. 
----------------------------------------------------------------------------------------------------------------
Past News:
Traveling Scriptorium Blog reaches 10,000 visits milestone!
On April 11, 2013 visits to the Library's Traveling Scriptorium topped 10,000. In addition to hitting this milestone, a recent blog post, authored by Paper and Photograph Conservator Marie-France Lemay, is featured as an external link on the Wikipedia entry for iron gall ink.
The Scriptorium's blog on WordPress was created as a companion to a medieval manuscripts material culture kit. The kit and blog are the result of a partnership between the Library conservators and curators, and University faculty. Since its debut in the fall, the physical kit has been used in 6 class sessions, both graduate and undergraduate, and one Library-sponsored Study Break. While the kit is no real match for Chipotle burritos, a number of Silliman students expressed a genuine interest in the kit and promised to make a point of visiting the Beinecke Rare Book Library to look at the primary sources modeled in the Scriptorium or other materials of interest to them!
----------------------------------------------------------------------------------------------------------------
Chief Conservator to Give Talk About Preserving Family Collections
On May 2, 2013, Chief Conservator Christine McCarthy will speak at the Bristol Historical Society in Bristol, Connecticut on preserving personal collections. Her talk will focus on the steps individuals can take to protect (and still enjoy) their unique and treasured family documents, photographs, scrapbooks, and others collectibles. Christine has previously given this talk for the Polish Genealogical Society, the New Haven Public Library, and the Meriden Public Library. The event is free and open to the public.
----------------------------------------------------------------------------------------------------------------
Preservation Librarian Assists Artists in Response to Hurricane Sandy
This past December, Preservation Services Librarian Tara Kennedy worked as the hotline manager and as a response volunteer with the American Institute for Conservation's Collections Emergency Response Team (AIC-CERT). AIC-CERT is a group of conservators and other collections-related specialists who volunteer to respond to disasters affecting collections. This team of "rapid responders" has been trained in assessing damage, disaster response techniques, and health and safety protocol.
December was an especially busy month due to the arrival of Superstorm Sandy at the end of October. The disaster recovery need was so great in the New York City area that the Foundation for the American Institute for Conservation (FAIC) opened the Cultural Recovery Center (CRC) on December 10, and began providing services to its first artist on December 13. Kennedy assisted with initial examination and mold removal for works of art on paper during the early stages of the CRC's opening.
For more information about AIC-CERT:
http://www.conservation-us.org/index.cfm?fuseaction=Page.viewPage&pageId=695
For more information about the Cultural Recovery Center:
http://www.conservation-us.org/index.cfm?fuseaction=page.viewPage&pageID=1668&nodeID=1
--------------------------------------------------------------------------------------------------------------
Preservation Department digitizes important content regarding South Africa and Apartheid
The Manuscripts & Archives' collection of 2,400 videotapes from the television program South Africa Now has been digitized. Because of its unique position operating just outside the control of the South African authorities, South Africa Now was able to capture a unique view and in doing so documented the cultural richness of the region. An enhanced online finding aid will be available December 2012 and will provide more detailed descriptions of the individual episodes. Streaming digital files of the episodes and file footage will be available to the research community in the Manuscripts and Archives reading room, and copies of the digital files can be made for long-distance researchers.
This project has allowed us to preserve the content of the tapes. The vast majority of the videotapes in this collection - ninety-six percent (96%) - are in formats that are becoming rapidly obsolete. Digital migration and preservation is the only approach presently available to safeguard this unique collection due to format obsolescence. Professional analog recorders are no longer manufactured and as time passes, there will be few, if any, experts who can repair those that still exist. This preservation effort has preserved an important period in South African history.
For more information on this project, please see http://hdl.handle.net/10079/fa/mssa.ms.1818
----------------------------------------------------------------------------------------------------------------
Recent flash flooding affects library collections; quick action minimizes damage
On Friday afternoon, August 10th, New Haven experienced tremendous rains - over 2 inches in 45 minutes. Combine that with it being high tide, and New Haven was quickly overwhelmed with flooded streets and parking garages due to overfilled storm drains. Unfortunately, the Yale Library was not spared.
Quick action and effective emergency preparation aided in preventing damage to the Library in terms of collections: approximately 300 books were sent to be vacuum freeze dried, which is a small number considering the number of libraries that were affected by the storms: Sterling Memorial, Bass, Divinity, Law, and the Beinecke. Those 300 books – being dried by Belfor, an international company that specializes in document recovery – have returned to the Library in less than three weeks with only minimal signs of water damage.
Emergency response is a collective, cooperative effort; without the collaborative efforts of Preservation, Custodial Services, Facilities, Risk Management, and the sharing of resources, these types of events could result in far more loss of library collections. Many thanks to all of those who helped out on that wet Friday!
---------------------------------------------------------------------------------------------------------------
Conservation Creates Teaching Tools for the Budding Medievalist: Traveling Scriptorium
Through a series of outreach projects and collaborations with curators, faculty, and other conservators on campus, Yale University Library's Conservation Services, using its expertise in the areas of book history, materials and techniques, and scientific testing, has reintroduced itself to the campus and community as a partner in promoting teaching and enhancing learning through the study of objects. Reintroducing conservation as a discipline was an opportunity that culminated in the creation of the Library's first material culture teaching kit, the Traveling Scriptorium.
In 2010, the Conservation Services team partnered with curator Kathryn James to seek funding to create a material culture kit based on medieval manuscripts. The kit was envisioned as a teaching tool and will be used in class sessions for library staff, undergraduate and graduate students, and others. The Scriptorium's blog site provides the opportunity to collect audience responses, while also acting as a forum for information, further resources, and an introduction to the kit itself.
The project team solicited input from and worked closely with Yale's English Department faculty to develop something that would enhance their teaching and use of collections. Each user of the kit can approach integration into learning, teaching, and course curriculums in different ways. Faculty advisors for the project were excited to use the kit in their classrooms, but still wanted the option to visit the lab with their students to explore the kit with the Library's conservators.
The Traveling Scriptorium provides samples sets and didactic panels related to medieval inks and pigments. The kit includes examples of many raw materials used to create inks such as oak galls, plant matter, minerals, and insects. There is also a guide with historical ink and pigment recipes. The kit also includes binding models that are supported by a series of didactic panels that focus more specifically on the characteristic features of the bindings such as sewing structure (supports and patterns), boards (material used, shaping and lacing channels), and covering materials (leather, parchment, tanning, and toning of covering material).
For more information, please see our blog: http://travelingscriptorium.library.yale.edu/
---------------------------------------------------------------------------------------------------------------
Globe Collection to be Preserved
Last September, The Yale University Library commissioned T.K. McClintock, a private conservator, to conduct a conservation condition assessment of the Map Department's globe collection. The work was done in coordination with Christine McCarthy, Chief Conservator, George Miles, Curator of Western Americana for the Beinecke Rare Book and Manuscript Library, and Abe Parrish, Director of the Map Department. The Yale Daily News article can be found here:
http://yaledailynews.com/blog/2012/04/19/globe-collection-to-be-preserved/
----------------------------------------------------------------------------------------------------------------
Landmark Gift Establishes Institute for the Preservation of Cultural Heritage at Yale University
Yale University President Richard C. Levin today [June 7, 2011] announced the creation of the Yale Institute for the Preservation of Cultural Heritage, funded by a gift of $25 million from Lisbet Rausing and Peter Baldwin '78. The Institute, to be housed on Yale's West Campus, will unite the vast resources of the University's museum and library collections with the scientific and technological expertise of Yale's academic departments to advance conservation science and its practice around the world.
------------------------------------------------------------------------------------------------------------------
Fall 2012 Preservation Newsletter