Digital Humanities Fellows
Each semester, the Digital Humanities Lab appoints one or more Digital Humanities Fellows to assist with courses that have a strong digital humanities component. To apply to be a Fall 2017 DH Fellow, visit our DH Fellows Application page!
 
Current DH Fellows
Andrew S. Brown is a fourth-year PhD candidate in the Department of English, specializing in Renaissance/early modern literature. His dissertation focuses on how English playwrights engaged with the political, religious, and literary implications of the concept of representation. Other research interests include the history of printing and the intersections between the digital humanities and book history more generally.

As an assistant to Professor Heather Klemann, Andrew will work with the DHLab to develop several assignments for the English Department course "Vampires, Castles, Werewolves". Students will learn how to use tools and software in the areas of mapping/GIS, digital curation, and text visualization. In doing so, they'll have the opportunity to create their own online resources that explore the connections between Gothic literature and the history of art and architecture, as well as the rich, complex publication history that lies behind many of the period's novels and stories.

Fadila Habchi is a Ph.D candidate in African American Studies and American Studies. She specializes in contemporary literature from the African diaspora, in French and English. She is especially interested in narratives of migration in the context of movements of decolonization. Her current project explores literary representations of the postcolonial city in postwar Caribbean literature.

As a digital fellow, Fadila works closely with Professor Wexler to assist undergraduates students in developing their own digital humanities project.

Bo Li is a Ph.D. candidate in the English Department, working on a long history of new media, with a special interest in feminist engagements with populist media forms. She is excited to be working with Professor Wai Chee Dimock on "Performing American Literature," a course that will expand the definition of "performance" to include modes of digital expression, ranging from gaming, spatial and temporal mapping, e-texts, and the creative use of social media.

In addition to her research and teaching, Bo is also engaged with pedagogical development, with particular focus on academic writing. She works with the Yale College Writing Center and is a McDougal Fellow at the Center for Teaching and Learning.
Former DH Fellows
2016-2017
Kimberly Quiogue Andrews is currently completing her PhD in the English Department at Yale, and was excited to be the test case for scaling up DH methods for use in a lecture course. Her research focuses in the main on the cultural contexts of contemporary American poetry. Her current project explores the relationship between experimental poetry and the university after the second world war; specifically, she aims to show the ways in which innovative poetic methodologies borrow and engage with more 'traditional' research practices in the analytic humanities. 
As an assistant to Professor R. John Williams in the English Department, Kim worked with the DHLab to develop a number of digital projects for a course entitled "Countercultures." This course explored a number of states of "altered consciousness" throughout the 1960s and 1970s, offering a more nuanced exploration of what it meant to cultivate an experience that ran "counter" to the dominant practices of American bourgeois society. Students learned how to use network visualization tools, topic mapping, and trend visualization software — as well as a few digital tools by which they can create their own countercultural projects — to better understand the relationship between what runs against mainstream culture, and the mainstream culture that has a tendency to absorb it. Fall 2016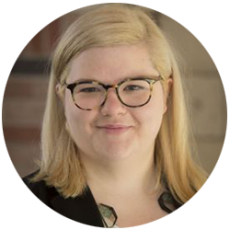 Carlotta Chenoweth was beginning her fourth year in the Department of Slavic Languages and Literatures. She looked forward to assisting in the instruction of a new course, "Avant-Gardes and Émigrés: Digital Humanities Lab," with Professor Marijeta Bozovic. This course was an experimental seminar open to both graduate and advanced undergraduate students. The two objectives of this course were to introduce some of the most influential Russian literary and theoretical works of the twentieth century alongside digital tools that would enable students to experiment with "distant," quantitative, and other novel forms of humanities research.
As a Digital Humanities Fellow, I worked closely with students in the course to mentor and model for them several of the Digital Humanities tools and techniques that I have learned in the past two years, including but not limited to: an introduction to coding in R with R Studio; topic modeling large corpora through R and Mallet; data gathering and network modeling with Datavis and an introduction to Gephi. I also encouraged and led critical discussions interrogating the limitations and potential pitfalls of the "quantitative turn" in the humanities. Fall 2016
Brandi M. Waters was excited to join the DHLab as a Digital Humanities Fellow. She is currently completing her Ph.D. in the History and African American Studies Departments at Yale, and she specializes in colonial Latin American history. Brandi is interested in the influence of slavery on developing legal and medical institutions in Latin America and the Atlantic World. Her current project examines the impact of slavery on institutional approaches to disability in New Granada (Colombia) and Philadelphia in the late eighteenth-century, and specifically how enslaved people shaped perceptions of physical and mental disabilities while adapting to different legal, cultural, and demographic settings.
As an assistant to Professor Anne Eller in the History Department, Brandi worked with the DHLab to develop digital projects in the course "Introduction to Latin American History." In the course, students learned how to curate an online gallery and explore digital techniques in network analysis in order to understand changes in power relations over time and space during important transitions in Latin American history. Fall 2016
2015-2016
T.L. Cowan was the 2015-2016 Bicentennial Lecturer of Canadian Studies in the MacMillan Center for International and Area Studies and Digital Humanities Fellow at Yale University. T.L. is visiting from The New School, where she is Chair of Experimental Pedagogies in the School of Media Studies and Lecturer of Culture & Media at Eugene Lang College. T.L. is also co-facilitator of the Feminist Technology Network.
T.L.'s work with the DHLab will focus on developing a proof-of-concept for The Cabaret Commons: An Online Archive and Anecdotal Encyclopedia for Trans- Feminist and Queer Performers and Audiences. This project entails the development of a hybrid curated and user-generated digital archive of live performance that works towards a responsive and dynamic model of performance archives—one that documents performers and performances and attends to the central role of audiences in sustaining grassroots trans- feminist and queer cultures. The Cabaret Commons project has been generously supported by the Canadian Writing Research Collaboratory (CWRC) and the Social Sciences and Humanities Council of Canada (SSHRC). T.L. is also a practicing performance and video artist and co-founder and co-editor of the Helix Critical Project.
Annie de Saussure was delighted to join the DHLab as a Teaching Fellow in spring 2016. Annie was then completing her Ph.D. in the Yale French Department in contemporary Francophone Literature. Annie's research, broadly speaking, looks at narratives of migration, exchange, and intersection in global literary networks of the Francophone World. Her current project examines the intersection of Francophone Caribbean and Breton poetry, theater, and autobiographical fiction, and the ways in which contemporary Breton literature responds to and engages with postcolonial theory and texts.
As a Teaching Fellow and Assistant to Professor Christopher Semk of the French Department, Annie worked with the DHLab team to apply the technologies of digital humanities to literary analysis in a course entitled "Louis XIV and the Culture of Absolutism." In this course, students learned how to use DH tools including collation software, textual visualizations, and mapping to explore relationships between literature, culture, and power during the reign of Louis XIV. Spring 2016

Lauren Tilton was excited to join on as the first DH Fellow in the lab, having been involved in DH initiatives at Yale for the past several years. She is the Co-Director of Photogrammar, an NEH-funded project which maps 170,000 photographs of the Great Depression and World War II from the FSA-OWI Collection at the Library of Congress. She is also the co-author of Humanities Data in R, a textbook and digital resource for using the open-source programming language R to analyze humanities materials.
As a Fellow for the Mellon advanced seminar "(En)visualizing Knowledge: Text Mining, Mapping, Network Analysis, and Big Data," taught by Professors Laura Wexler and Inderpal Grewal, Lauren worked with the DHLab to teach graduate students a variety of DH approaches to text mining, mapping, network analysis, and data visualization. Fall 2015
Last modified:
Tuesday, February 14, 2017 - 9:52am