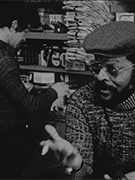 The Yale Film Study Center has been awarded a $24,000 matching grant from the National Film Preservation Foundation to preserve Street Corner Stories, an iconic 1977 documentary produced by filmmaker Warrington Hudlin '74 in New Haven.
In Hudlin's film, convenience store employees, customers, Yale employees, neighborhood kids, and others mix and meet at a New Haven convenience store, sharing jokes and stories, drinking coffee, and talking politics. Shot in cinéma vérité style, the film documents a unique storytelling form, an African American street-corner vernacular that Hudlin presents as a spoken form of the blues.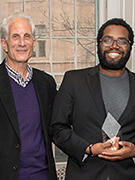 Two students who work in the library are among the first recipients of a new university award recognizing their contributions.  Jaster Francis '20 is a work leader in collections maintenance at Sterling Memorial Library. Raffi Donatich '19 is a student research assistant at the Beinecke Rare Book and Manuscript Library.
Francis and Donatich were among ten students who received the inaugural Y-Work Award for Outstanding Undergraduate Student Employees at an April 30 reception hosted by Yale College Dean Marvin Chun.