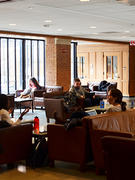 Faculty, students and staff are invited to a presentation on the upcoming renovation of the Anne T. and Robert M. Bass Library on Wednesday, Jan. 23, from 3:30 to 5 p.m., in the Sterling Memorial Library Lecture Hall. Project architects will show designs for the space, and librarians will share a proposal for the content, organization and management of the library's post-renovation collection.
"The proposed design and collections have been based on extensive research into the habits and preferences of Bass library users," said Assessment Librarian Sarah Tudesco, chair of the planning committee. "As we approach key decision points, we are excited to share our plans with faculty, students and staff for any additional comments and questions."
The goal of the project is to expand study space in Bass, a popular destination for Yale College students. Since two new colleges opened in August 2017, the number of undergraduates at Yale has grown, for a total increase of 800 students by fall 2019.
The four-month transition to the powerful new Archives at Yale discovery tool was completed this week as library staff disconnected the old Yale Finding Aid Database (YFAD) system.  Archives at Yale, introduced last September, is now the primary resource for searching within and across more than 5,000 collections held in ten Yale library and museum repositories.
For its first few months, Archives at Yale, Yale's version of the open-source Archives Space web application, ran in parallel with the legacy YFAD system while library staff finetuned the new system in response to users' feedback.
The choice of a popular open-source web application means that Yale's investment in developing the tool will benefit other libraries and museums around the world.