The 3,200-square-foot space on the seventh floor that once housed the library's map collection is being transformed into a new home for the Yale Film Study Center, which will move there next year from Whitney Humanities Center. The renovated space will offer customized viewing booths, staff offices, video collection stacks, a new film preservation suite, and a 20-seat screening room. Once in Sterling, the center will be renamed the Yale Film Archive to better reflect its critical support for teaching and research as well as its leadership in fostering film culture at Yale through collection, preservation, and public access. Read more:
In response to public health conditions, Yale Library will close all library buildings and spaces to library users at the end of day Tuesday, Nov. 24. If health and safety guidelines permit, libraries will reopen to users who are authorized to be on campus Jan. 5, 2021.
On Nov. 23-24 the library will be open for the primary purpose of gathering needed materials, rather than for longer-term reasons, such as study. On those days, users may retrieve materials from the stacks, from study carrels, from hold desks, and from contactless pickup. The library will also open on Nov. 23-24 for previously scheduled appointments in special collections reading rooms.
While library buildings are closed, staff will continue to work remotely and on-site to support Yale teaching and research. Effective Nov. 30, contactless pickup will move from Sterling nave to Thain Café at Bass Library and the Medical Library's contactless pickup will move outside the Medical Library entrance at 6pm on Nov. 24.
Library staff continue to provide research consultations, workshops, library instruction, and access to electronic resources online. Current students, faculty, and staff may request to have library materials, including BorrowDirect materials and interlibrary loans, scanned or mailed to their home addresses in the U.S. See the Library Reopening FAQ for more details about access and services, or send questions to Ask Yale Library.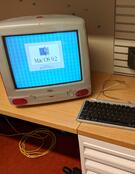 Yale University Library has received two grants totaling $1.5 million for continued support of its Emulation-as-a-Service Infrastructure (EaaSI) program. Established in 2018, the program develops technology and services to resurrect obsolete software programs which can then be used to access and study digital collections at Yale and elsewhere.
The grants come in equal measure from The Andrew W. Mellon and the Alfred P. Sloan Foundations. In 2018, inaugural gifts Mellon and Sloan provided critical support to launch the program.
"This sustained support of these two leading foundations—one focusing on the humanities, and the other on the sciences—shows how vital emulation is to the future of digital preservation," said Barbara Rockenbach, Stephen F. Gates '68 University Librarian. Read more