Yale University Library has selected six 2019 graduates to receive this year's library prizes for outstanding senior essays. The prizes, awarded in three categories,  will be presented to the students at their residential college graduation ceremonies on May 20. The winning essays will be published online in Eli Scholar.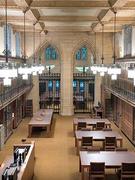 During the 2019 Reunion weekends, Yale University Library's Manuscripts and Archives will host an open house in the recently renovated Gates Classroom. The library will also offer three guided tours.  
The guided tours will be of the Beinecke Rare Book and Manuscript Library, the Center for Science and Social Science Information, and the newly renovated Franke Family Digital Humanities Laboratory in Sterling Memorial Library.