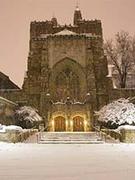 Finals end, and winter recess begins at 5:30 p.m. on Wednesday, Dec. 19.  Yale University Library departments, libraries and locations will be closed beginning Saturday, Dec. 22, reopening Wednesday, Jan. 2—with a few exceptions:
The Cushing/Whitney Medical Library will be closed only Dec. 24 - 25 and Dec. 31 – Jan. 1. There will be no guided tours of the Cushing Center during the break, but it will be open during library hours to members of the Yale community with ID. See Medical Library hours here. 
Sterling Memorial Library and Bass Library will be open with limited hours on Dec. 26 – 28, 11 a.m. - 2:45 p.m. Program and administrative offices will be closed.
The Lillian Goldman Law Library will also be open Dec. 26 - 28, 8 a.m. – 6 p.m., and on Dec. 29, 10 a.m.- 6 p.m.