Yale University Library has been selected to receive the first annual Ivy Award from New Haven Promise, a program that provides scholarships and career development support to graduates of New Haven schools. The award, which will be presented at the group's annual Scholar Celebration on Aug. 16,  recognizes the library's strong support of the group's career launch and civic engagement initiatives.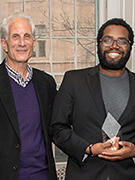 Two students who work in the library are among the first recipients of a new university award recognizing their contributions.  Jaster Francis '20 is a work leader in collections maintenance at Sterling Memorial Library. Raffi Donatich '19 is a student research assistant at the Beinecke Rare Book and Manuscript Library.
Francis and Donatich were among ten students who received the inaugural Y-Work Award for Outstanding Undergraduate Student Employees at an April 30 reception hosted by Yale College Dean Marvin Chun.