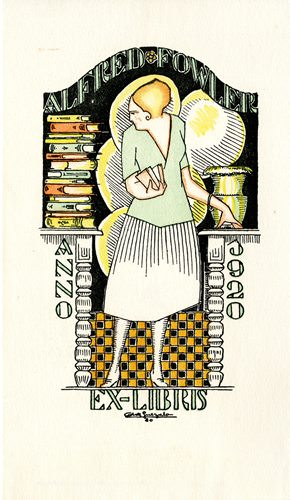 Spanish painter and printmaker Antonio Guezala y Ayrivié (1889-1956) was active in Bilbao. This ex-libris, which Guezala designed for Alfred Fowler in 1920, was exhibited the following year at the Grolier Club as part of the American Bookplate Society's Sixth Annual Exhibition of Contemporary Bookplates. Alfred Fowler (b. 1889) was a charter member and Secretary-Treasurer of the American Bookplate Society as well as a member of the Grolier Club and the editor of several bookplate publications.
Arts Library Special Collections holds several titles either edited or published by Fowler. You can also see other works by Guezala in our Collection of Spanish Bookplates (Call # BKP 45).
The Yale Bookplate Collection comprises an array of graphic works in addition to both archival and published materials.