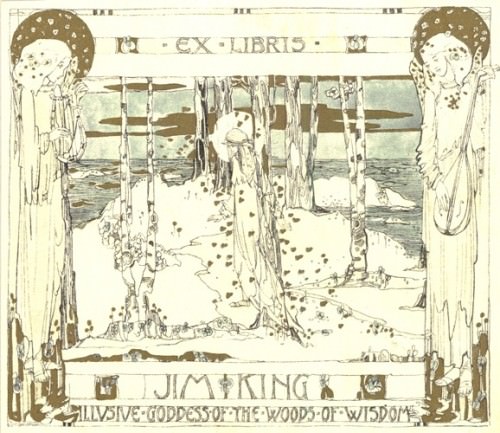 Jessie Marion King (1875-1949) was a Scottish artist who trained and also taught at the Glasgow School of Art. Her work demonstrates the so-called Glasgow style, which was a turn-of-the-20th-century artistic idiom at the intersection of the Arts and Crafts, Symbolist, and Art Nouveau movements.
King is best known for her book illustrations, but she also painted and designed ceramics, jewelry, silverware, textiles, costumes, and a host of other graphic works—including bookplates. This ex-libris design for James "Jim" King exemplifies the delicate curvilinear lines, elongated figures, and romantic themes that predominate in King's oeuvre.  
Colin White has published books about Jessie M. King in 1989 and 2007. A detailed account of King's bookplates, also by White, can be found in the Autumn 2012 issue of The Bookplate Journal (vol. 10, no. 2). The Yale Bookplate Collection comprises an array of graphic works, such as this specimen by King, in addition to both archival and published materials.