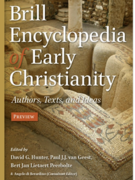 The Library now subscribes to the Brill Encyclopedia of Early Christianity Online
This online resource focuses on the history of early Christianity up to 600 CE and provides a critical review of the methods used in Early Christian Studies, covering iconography, martyrology, theological traditions, and cultic phenomenon.
This exhibit draws on the holdings of the Divinity Library's Day Missions Collection to illustrate methods of spreading the Christian message through evangelization, educational work, medical work, public health activities, relief work, translation, literature distribution, and so forth. On view until August 30, 2019.