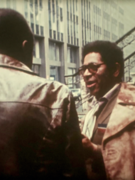 The Yale Film Study Center Preserves THE BEGINNINGS OF BEBOP
The Yale Film Study Center has completed preservation of The Beginnings of Bebop, a documentary by filmmaker, musician, and Yale music professor Willie Ruff and starring legendary trumpeter Dizzy Gillespie who leads a tour of New York's early bebop hotspots.
FSC-Preserved Josh Morton Print Premieres in Vienna
Filmmaker Josh Morton B.A. '67, M.Arch '70 and the Yale Film Study Center's Brian Meacham premiered the FSC-preserved short film Puppet Show at the Orphan Film Symposium in Vienna. The film depicts a puppet show for New Haven kids presented by the Black Panthers in 1970.