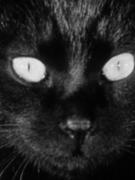 Terrors from the Yale Film Archive
Online film frights for Yale students, faculty and staff. Yale NetID required.
The Yale Film Study Center Receives a 2020 NFPF Preservation Grant
The Yale Film Study Center has received a grant from the National Film Preservation Foundation to support preservation of Tony Williams in Africa, a music documentary shot in Senegal and New Haven by Yale alumnus Willie Ruff.