Current Staff System Specifications
Standard Workstation Hardware
Desktop Workstation
Yale Standard ThinkCentre M720s small-form-factor desktop offers business-class performance in a highly customizable workspace efficient chassis.
3GHz Intel Core i5 8500

16GB DDR4 SDRAM

512GB Hard Drive

Intel UHD Graphics 630

Gigabit Ethernet
---
Monitor
The Lenovo 23.8" T24I-10 monitor has a black and concise appearance with a full function ergonomic stand. It provides vivid images from a wide viewing angle.With built-in power and the rich connectivity of VGA, HDMI and DP, T24i-10 satisfies diverse connection demand. T24i-10 also has 4 USB3.0 ports, including 1 with BC1.2, which offers quick charge to your USB devices. Its full function stand supports lift, tilt, pivot CCW/CW 90 degree and swivel, which are all for your ease of use.
Display Size: 23.8 in
100 x 100mm VESA mounting pattern
Dimensions and weight with stand: 14.7"h x 21.3"w x 10.3"d, 11.6 lbs.
Ports/Connectors:(1) HDDB15 VGA
(1) HDMI
(1) DisplayPort
(1) 3.5mm audio out
(4) USB 3.0 Type A
(1) USB 3.0 Type B
(1) Power in
Contrast Ratio: 1000:1
Display Position Adjustments: Height, Pivot (rotation), Swivel, Tilt
Display Type: Widescreen
Internal Resolution (max): 1920 x 1080
---
Standard Laptop (Partial LIT funding)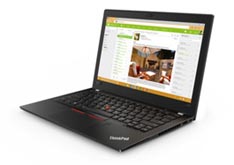 The ThinkPad T490 is perfect for portability. The narrow bezel design provides more viewing area while making a breeze to carry. And like all ThinkPads, the T490 is tested against 12 military-grade requirements and more than 200 quality checks to ensure it runs in extreme conditions. From the Arctic wilderness to desert dust storms, from zero gravity to spills and drops, you can trust this laptop to handle whatever life throws your way.
1.6GHz Intel Core i5 8265U
16GB DDR4 SDRAM
512.0GB Hard Drive
14in 1920 x 1080 Display
Intel UHD Graphics 620
IEEE 802.11ac, Bluetooth 5.0
Windows 10 Pro 64-bit Edition
16.1hour(s) Battery Life
3.400lb(s)
---
Webcam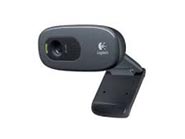 Smoother. Sharper. Richer. Clearer -- Logitech Fluid Crystal Technology. It's what makes a Logitech webcam better. It's smoother video, sharper pictures, richer colors and clearer sound in real-world conditions.
You'll experience rich, vibrant images and fluid widescreen (16:9) video calls on most major IMs and Logitech Vid HD. The built-in mic with RightSound gives you clear conversations without annoying background noise.
Ports/Connectors: (1) USB 2.0 Hi-Speed
Digital Video Capture Resolution: 1280 x 720
---
Headset
The Jabra UC Voice 150 Duo headset is a quality headset for users just getting into UC voice and multimedia. The headset features a noise-canceling microphone for call clarity and an adjustable boom for precise microphone positioning.
On-ear headphone
Stereo audio output
---
Operating System
Windows 10
 
Software:
| | |
| --- | --- |
| 7-zip | 19.00 |
| Adobe Acrobat Pro DC | 18.011.20035 |
| Adobe Acrobat Reader DC | 19.012.20035 |
| Adobe Creative Cloud | 4.7.0.400 |
| Aeon Client | 4.0.4.0 |
| Apple Application Support | 7.6 |
| Apple Mobile Device Support | 12.2.1.12 |
| Apple Software Update | 2.6.0.1 |
| Ares Client | 4.6.0.0 |
| Bomgar auto elevation service | 1.0.2.0 |
| Bonjour | 3.1.0.1 |
| Box Sync | 4.0.7848.0 |
| Box Tools | 4.5.7.609 |
| CAJ Viewer | 7.2 |
| Cisco AnyConnect Secure Mobility Client | 4.3.03086 |
| Crash Plan | 6.7.2.5609 |
| ctk | none |
| Cylance protect | 2.0.1460.29 |
| EndNote X9 | 19.2.0.13.018 |
| EPSON Advanced Printer Driver for TM-T88V Ver.5 | 5.04.0.0 |
| Google Chrome | 76.0.3809.87 |
| MS SCCM client | 5.00.8790.1025 |
| ILLiad Client | 9.0.3.0 |
| iTunes | 12.9.6.3 |
| Java 7 Update 51 | 7.0.510 |
| Java SE Development Kit 8 | 8.0.1610.12 |
| Macro Express 3 | 3.8.1.1 |
| MarcEdit 7 | 7.1.180 |
| MS Office 365 ProPlus | 16.0.6869.2060 |
| Microsoft OneDrive | 19.103.0527.0003 |
| Silverlight | 5.1.50901.0 |
| Mozilla Firefox | 52.1.1 ESR |
| OCLC Connexion client | 2.63 |
| Oxygen SML Editor | 21.1 |
| VgerSele | none |
| VgerSpin | none |
| Voyager 10.0.0 Build 2918 | 0.0.2918 |
| VLC | 3.0.7.1 |
| WinSCP | 5.15.3 |
| ZOOM Client | 4.3.46560 |
Last modified:
Wednesday, November 6, 2019 - 10:43am