Libby Van Cleve
Director
Libby Van Cleve is a scholar and performer with a specialty in contemporary American music.  As Director of Oral History of American Music (OHAM) at Yale University, she has conducted numerous interviews with major figures in American music.  Along with OHAM's founder, Vivian Perlis, she is co-author of the award-winning book and CD publication Composers' Voices from Ives to Ellington, Yale University Press.  Using materials from the archive, Van Cleve co-produced podcasts on Charles Ives, Aaron Copland, and Virgil Thompson.  She is the author of various articles, program notes, and liner notes; these writings are frequently generated from her interviews.   Complementing her work at OHAM, Ms. Van Cleve is recognized as one of the foremost interpreters of contemporary and chamber music for the oboe.  Her performances can be heard on a variety of CD labels, and she is the author of Oboe Unbound: Contemporary Techniques, Rowman and Littlefield Press.  She recently released oboe performance editions of Bach's first three cello suites, T.D. Ellis Music Publishing.  Van Cleve received her DMA from Yale School of Music, her MFA from California Institute of the Arts, and her BA, Magna cum Laude, from Bowdoin College. She serves as adjunct faculty at Wesleyan University and Connecticut College.
Anne Rhodes
Research Archivist
Anne Rhodes provides reference and access services for OHAM, as well as handling all aspects of arrangement and description. She holds a Master of Library and Information Science from the University of Illionois at Urbana-Champaign,  an M.A. in Experimental Music from Wesleyan University and a B. Mus. in Voice Performance from Boston University. Rhodes is a classically trained singer specializing in new music and improvisation. She regularly commissions and collaborates with composers, and has premiered works by more than thirty composers, including Alvin Lucier and Anthony Braxton.
Vivian Perlis
Founder / Senior Research Scholar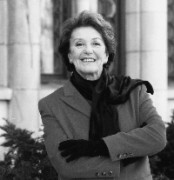 Vivian Perlis is an historian in American music, specializing in twentieth century composers. She is widely known for her publications, lectures, and recording and film productions. Perlis was the founder of Oral History of American Music and served for many years on the faculty of the Yale School of Music.
Book publications by Perlis include Charles Ives Remembered: An Oral History (New Haven: Yale University Press, 1974), for which she was awarded the Kinkeldey Prize of the American Musicological Society, and "An Ives Celebration" (Urbana: University of Illinois Press, 1976). With composer Aaron Copland, Perlis is co-author of Copland: 1900 Through 1942 (New York: St. Martin's/ Marek, 1984), which garnered a Deems Taylor/ ASCAP award, and Copland: Since 1943 (New York. St. Martin's, 1989). Her most recent book, Composers' Voices from Ives to Ellington, co-authored with Libby Van Cleve, includes two CDs and is derived from interviews in the OHAM archive.  Among her productions are recordings of the music of Leo Ornstein and Charles Ives, and television documentaries on Ives, Eubie Blake, Aaron Copland, and John Cage.
Perlis's many honors and awards include: The Charles Ives Award from the National Institute of Arts and Letters (1972); a Grammy nomination for "Charles Ives 100th Anniversary" (1974); the Harvey Kantor Award for excellence in the field of oral history (1984); a Guggenheim Fellowship (1987); and the Irving Lowens Award for distinguished scholarship in American Music from The Sonneck Society (1991).
Freelance Interviewers
OHAM's interviews are conducted by OHAM staff, as well as freelance interviewers. Current interviewers include:
Gregg Bendian
Gregg Bendian is a percussionist and composer well-known for his innovative and varied musical output. He has collaborated with some of the strongest personalities in jazz, rock and classical music, including Pat Metheny, Todd Rundgren, Jan Hammer, Cecil Taylor, Ornette Coleman, John Zorn, Gavin Bryars and Derek Bailey. In addition to his work as archival consultant and producer for SONY/Legacy, Gregg is an adjunct faculty member at William Paterson University of New Jersey, where he develops curricula and teaches music production, composition and arranging. www.greggbendian.com
Taylor Ho Bynum
Taylor Ho Bynum is a composer, cornet player, bandleader and interdisciplinary collaborator; his projects range from his Acoustic Bicycle Tours (where he travels to concerts solely by bike across expansive regions like New England or the West Coast) to his stewardship of artist-driven non-profit organizations like Anthony Braxton's Tri-Centric Foundation. He currently leads his Sextet, works with many collective ensembles, and has performed with legendary artists including Anthony Braxton, Cecil Taylor, Wadada Leo Smith, and the late Bill Dixon, and forward-thinking peers like Gerald Cleaver, Tomas Fujiwara, Mary Halvorson, John Hébert, Jason Hwang, Myra Melford, Nicole Mitchell, Mike Reed, and Tyshawn Sorey. He has toured throughout North and South America, Europe, and Asia as a bandleader, composer, and sideman, with recent awards including a 2013 Performing Arts Grant from Creative Capital and a 2013 Artist Fellowship in Music Composition from the Connecticut Office of the Arts. taylorhobynum.com
Last modified:
Wednesday, August 17, 2016 - 2:58pm