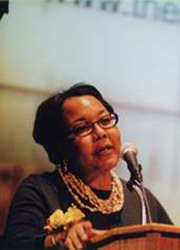 Thursday, October 15, 4:00 pm, Sterling Memorial Library Lecture Hall
Julieanna L. Richardson is the Founder and Executive Director of The HistoryMakers, the largest national collection effort of African American video oral histories on record. Richardson graduated from Brandeis University in 1976 with a B.A. in Theatre Arts and American Studies, from Harvard Law School with her J.D. degree in 1980, and has also been awarded Honorary Doctorates from both Howard University and Dominican University. With a diverse background in theatre, television production, and the cable television industries, she combined her various work experiences and her passion for history to conceptualize, found and build The HistoryMakers, a national, 501(c)(3) non-profit educational institution headquartered in Chicago.
Committed to preserving, developing, and providing access to an archival collection of 5,000 African American video oral histories, The HistoryMakers currently includes interviews with over 2,700 interviewees (9,000 hours of videotaped interviews) from 180 cities and towns as well as internationally, in addition to tens of thousands of documents, photographs, and digital images. The HistoryMakers Digital Archive has users in 51 countries around the world, from Afghanistan to Norway to Ghana. Included in the collection are the personal narratives of both well known and unsung African Americans including statesman General Colin Powell, poets Nikki Giovanni and Sonia Sanchez, civic leaders Vernon Jordan and Marion Wright Edelman, musicians Quincy Jones, Herbie Hancock and Ramsey Lewis, political leaders Congresswoman Maxine Waters and President Barack Obama when he was an Illinois State Senator and Alonzo Pettie, the oldest living African American cowboy. Younger HistoryMakers include Russell Simmons, Melissa Harris Perry and Charles Blow. Last year, the Library of Congress became the permanent repository for The HistoryMakers Collection, described as "a rich and diverse resource for scholars, teachers, students and documentarians seeking a more complete record of our nation's history and its people."
The talk is sponsored by the Beinecke Rare Book & Manuscript Library and the Public Humanities at Yale and is free and open to the public.