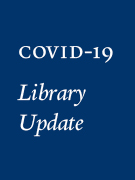 November 19 In response to public health conditions, Yale Library will close all library buildings and spaces to library users at the end of day Tuesday, Nov. 24. If health and safety guidelines permit, libraries will reopen to users who are authorized to be on campus Jan. 5, 2021.
On Nov. 23-24 the library will be open for the primary purpose of gathering needed materials, rather than for longer-term reasons, such as study. On those days, users may retrieve materials from the stacks, from study carrels, from hold desks, and from contactless pickup. The library will also open on Nov. 23-24 for previously scheduled appointments in special collections reading rooms.
While library buildings are closed, staff will continue to work remotely and on-site to support Yale teaching and research. Effective Nov. 30, contactless pickup will move from Sterling nave to Thain Café at Bass Library and the Medical Library's contactless pickup will move outside the Medical Library entrance at 6pm on Nov. 24.
Library staff continue to provide research consultations, workshops, library instruction, and access to electronic resources online. Current students, faculty, and staff may request to have library materials, including BorrowDirect materials and interlibrary loans, scanned or mailed to their home addresses in the U.S. See the Library Reopening FAQ for more details about access and services, or send questions to Ask Yale Library. 
Beinecke Library, Manuscripts and Archives, and other special collections reading rooms will be open to users on Nov. 23-24 for previously scheduled appointments, but new reservations will not be accepted for those days.  Yale researchers should contact the relevant special collections repository with research-related questions asap. All special collections' reading rooms will be closed to users Nov. 25 - Jan. 5.