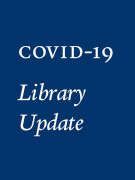 July 31, 2020 At this time, users may request scanning or pickup of materials from many library collections. Planning to re-open spaces and expand on-site services is under way for the fall 2020 semester.
Yale faculty, students, and staff may request materials for pickup at Thain Cafe from these general collections using links in Quicksearch and Orbis:
Haas Arts Library
Sterling Library
Gilmore Music Library
Bass Library
Library Shelving Facility
   
Yale faculty, students, and staff may request digital scans of chapters and articles from these general collections using the links in Quicksearch and Orbis:
Haas Arts Library
Sterling Library
Gilmore Music Library
Bass Library
Library Shelving Facility
Yale Center for British Art (YCBA) Reference Library YCBA library staff will be back onsite July 27 to fill scanning requests for all of their collections, including conservation, auction, dealer catalog, and serial collections. With access to onsite materials, they will also be expanding references services beyond what they have been able to provide remotely during the pandemic shutdown. Yale faculty, staff, and students may submit scanning requests  through the Orbis and Quicksearch beginning July 24  and reference requests may be placed through the Ask a Librarian link on the YCBA library website. Yale community requests will be prioritized over request from non-Yale researchers.
Access to special collections Special collections reading rooms remain closed, but digitization of special collection materials has resumed at the Beinecke Library and at Manuscripts and Archives. Priority will be given to requests supporting fall semester teaching and research at Yale. Contact individual special collection repositories to discuss class-support and research needs for fall. Please note that the library's ability to fill special collection requests for non-Yale researchers is extremely limited at this time, with no estimated fulfillment times. We continue to expand the range of digital collection materials freely available to the public. 
Reopening of library spaces Except for the Thain/Bass pickup location, library buildings and spaces remain closed to library users, but planning is underway to reopen library spaces and additional onsite services for the campus community only in the Fall 2020 semester. (Under current university guidelines, the campus will remain closed to non-Yale visitors this fall.) All access and services provided will be in full compliance with state and university health and safety guidelines. Additional information will be posted on the  Library Reopening FAQ when available. 
HathiTrust e-book access  Under a special agreement with the HathiTrust Digital Library, Yale Library users have been granted access to around 5 million e-books that are either in the public domain or owned by Yale Library in print versions made inaccessible by the COVID-19 shutdown. Users may access the e-books through the library's online catalog. Users may also request scans from these titles, but the library's physical copies may not be requested for pickup. 
Online course reserves Faculty may now place reserve requests for e-books, scans, and streaming audio or video using the Canvas course reserves module for the fall 2020 semester. Faculty are strongly encouraged to submit their requests as soon as possible and to include all required course materials so that library staff will have time to identify and secure e-versions. All course reserves for the fall 2020 semester will be online; physical course reserves will not be offered. 
Yale Library Online Since March, the library has expanded online services and access to e-resources in respond to COVID-19. These services will continue throughout the fall semester in order to ensure the highest possible level of support for faculty, staff, and students on- or off-campus.
• See the Yale Library YouTube channel for a series of short video tutorials on using library research tools. 
• To help graduate students and other researchers identify and locate  primary resources in all formats at Yale and elsewhere, the library is now offering a Primary Source and Research Collections Consultation, a joint online (or telephone) consultation with an archivist or curator and a subject expert librarian in the researcher's field of study. This service is available for Yale faculty, students, and staff only. 
COVID-19 research guides Librarians at Marx Science and Social Science Library have created a COVID-19 social science research guide containing news sources, databases, and links related to the impact of COVID-19 across the social sciences. Librarians at Cushing/Whitney Medical Library have created a COVID-19 resource page containing clinical tools and guidance, latest research and citations, datasets and repositories, and consumer health information. Yale University Library's Preservation and Conservation staff have developed a COVID-19 guide to collection handling resources.