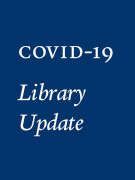 July 2, 2020 Access to library collections is expanding. Yale ID holders may request general collection library materials for pickup at Thain Cafe at Bass Library from Haas Arts Library, Sterling Library, Gilmore Music Library,  Bass Library, and the Library Shelving Facility. Yale faculty, students, and staff may also request digital scans of chapters and articles from these collections. Special collections scanning and digitization will resume July 7 at the Beinecke Library and July 13 at Manuscripts and Archives and the Music Library. Except for the Thain/Bass pickup location, library buildings and spaces remain closed to library users, but planning is underway to reopen reading rooms and other spaces this fall. Read Library Reopening FAQ for more details.
June 25, 2020  Library moves forward with phased reopening. In sync with the restart of essential research on campus, Yale Library is expanding collection access for faculty, students, and staff. Yale ID holders may now request general collection library materials from the offsite Library Shelving Facility (LSF) for pickup at Thain Café at Bass Library. The option to pick up materials from the Sterling Memorial Library, Gilmore Music Library, and Bass Library collections resumed June 8. Patrons may also request digital scans of of chapters and articles from these collections through the library's Scan and Deliver service. Except for the Thain/Bass pickup location, all library buildings and reading rooms remain closed to library users. 
The following services are expected to resume by mid-July, with specific start dates to be announced: scanning of Haas Arts Library general collections; request for pickup of Arts Library materials at Thain Café; and scanning of special collection materials from the Beinecke Rare Book and Manuscript Library, Manuscripts and Archives, and Music Library Special Collections. Further details will be announced via campus email when they are finalized.  
Planning is underway to resume scanning and borrowing for other Yale Library collections later this summer, with start dates still to be determined. Additional services, such as limited in-person use of special collection reading rooms, will be added later as public health guidance and building logistics allow. 
Read Frequently Asked Questions about library reopening. 
June 8, 2020 Some onsite library services resuming today.  Effective Monday, June 8, library staff have resumed scanning of general collection materials in Sterling Memorial Library (including Gilmore Music Library), Bass Library, and the offsite Library Shelving Facility. Effective immediately, current faculty, staff, and students may submit requests using the "Request scan of article/chapter" link in Orbis and Quicksearch. The link will be present only for materials that currently are available for scanning. Your will be notified by email when your scanned materials are ready.
Also effective June 8, staff have begun filling requests from current faculty, students, and staff to check out books and other materials from the Sterling and Bass general collections, including the music library. Requested materials will be pre-checked-out to and then quarantined for a minimum of 36 hours before they are made available for pickup at Thain Café at Bass Library. Since disinfectant products should not be used on library collections, the quarantine period is being used to mitigate the spread of the COVID-19 virus on collection surfaces.
May 14, 2020 4:30 pm New: Conservation and Preservation guide to collections handling in a pandemic 
The COVID-19 pandemic raises new questions about how to mitigate against transmission of the virus on collection materials. To inform planning for eventual re-opening of library collections, our Preservation and Conservation staff have developed a guide to collection care and handling in a pandemic. The guide includes presentations created by and for Yale Library staff, links to Yale and other resources, and a bibliography, with updates as new information becomes available. 
May 13, 2020, 4:30 pm Limited restart of scanning and book pickup services planned 
Yale University Library is finalizing plans to restart some on-site services, with a focus on getting physical collection materials to users to support Yale teaching and research. Plans are being finalized to resume scanning and digitization of library materials, starting with the general collections in Sterling Memorial Library, Bass Library, and the Library Shelving Facility. A pickup service is being planned at Thain Café at Bass Library for books from the Bass and Sterling collections. The start date will be some time after June 1, and patrons will not be allowed inside library spaces. Details and timing will be announced to the Yale community by email when plans are confirmed and these services are ready to launch. Read Frequently Asked Questions about library reopening.
May 7, 2020, 9 am New COVID-19 research guide for social science research
Librarians at Marx Science and Social Science Library have created a working collection for researchers seeking to explore the impact of COVID-19 across the social sciences. The research guide, which can be seen at https://guides.library.yale.edu/covid19impacts, includes news sources, databases, and links to research support librarians with related subject expertise. It will be updated as new resources become available.
Librarians at Cushing/Whitney Medical Library have created a COVID-19 resource page containing clinical tools and guidance, latest research and citations, datasets and repositories, and consumer health information. The guide is frequently updated as new information is released.
April 28, 2020, 8:15 pm Yale Library Online brings students tips and treats for Reading Week, finals
Yale librarians are exercising their ingenuity by creating a special Reading Week program for students online. The line-up of stress-reducing activities includes a Zoom session with Handsome Dan, meditation, and arts and crafts for de-stressing--as well as personal messages from library staff and daily study tips.
On the academic side, the library's new HathiTrust explainer video shows students how to access five million e-books recently added to the library's catalog from the HathiTrust digital repository. This includes emergency access to two million e-books for which the library owns only physical copies. Also on the YouTube playlist are video tutorials on finding scholarly articles and databases by subject.
April 21, 2020, 2:45 pm New modes of supporting online teaching and research
The buildings may be closed, but Yale Library staff, working remotely, are finding new ways to support faculty, students, and researchers online. Steps taken in recent weeks include:
Online search tools have been changed so users can more immediately identify which books and resources are available electronically.
Librarians are creating video tutorials on YouTube – two were posted last week, and more will be going up in the next few days.
Five million more e-books have been added to the online catalog through an emergency agreement with Hathi Trust, a non-profit digital repository. Before the campus shutdown, Yale Library had 2.7 million e-book titles, and something like 12 million physical titles.  Now, the online numbers have increased by 2 million e-books of titles that are on the shelves in the shuttered library, plus 3 million more titles that are out of copyright and in the public domain.
The Hathi Trust titles are just one of many e-resources tapped by library staff to replace now-inaccessible physical course reserves. 

 

Faculty had placed 1,925 items on physical reserves at six library locations this semester; library staff located or licensed e-versions for 60 percent of these
Students' use of the expanded Ask Yale Library service continues to grow. In March, the library fielded 866 questions, of which 543 were via chat sessions.
March 26, 2020, 3:15 pm Free access to electronic textbooks and other online resources
In response to the pandemic, some publishers are granting direct, free access to e-book versions for various time periods. Yale University Library has created a guide to temporarily-free publishers' resources for textbooks, streaming video, and many other e-resources. Access to the services may be limited in terms of number of titles, time, and other factors. Students who use them should take note of the publishers' terms and conditions, as well as policies on privacy and use of personal information.  
The University Information Policy Officers (UIPO) has crowd-sourced a list of normally paywalled and/or licensed content that publishers "are making available on free or modified terms during the COVID-19 outbreak." The UIPO list is being updated regularly as vendor and publisher offers continue to be announced. More resources and aggregated lists can be found on the library guide to temporarily-free publishers' resources.
Note: Yale University Library licenses a wealth of digital content; the UIPO list will therefore include offers for free access to material that faculty and students can already access through the library. 
Yale students seeking to identify and access electronic resources to support research projects and course papers should reach out to their personal librarian or one of the library's subject specialists for assistance.
March 26, 2020, 7:30 am Medical Library offers COVID-19 resources for researchers and clinicians
Librarians at the Cushing/Whitney Medical Library have worked with the Yale School of Public Health to develop a public collection of COVID-19 citations to aid researchers and clinicians.  Accessible through this public Zotero library (no account required), the collection includes daily updates from PubMed, ClinicalTrials.gov, Disaster Lit, and preprints from bioRxiv and medRxiv. 
The citations are roughly sorted into different topics: epidemiology, immunology, modeling, sequencing, and treatment. There are also folders for different regions and the ability to view the collection by citation source. Most records include abstracts and all include links for users to pursue full-text access. To access the URL, click on a citation and scroll down to the URL field. Read the Medical Library announcement.
March 24, 2020,  8:30 pm "Ask Yale Library" is easing the transition to online classes and research
To support the university's move to online classes, the library has more than doubled the live chat component of Ask Yale Library, from 45 to 91 hours a week. The expanded hours and a new pop-up chat box on the library's home page are drawing many new users.
"Between March 16, when we increased the hours, and March 24, we fielded 391 questions, of which 263 came through chat," said Laura Sider, Associate Director of Frontline Services, who manages the service. "During the same eight-day period last year, Ask Yale Library received just 91 questions, 42 via chat."
Eighteen library staff, all working from home, are covering the expanded chat hours.
During the same eight-day period last year, Ask Yale Library received 91 questions, including just 42 via chat.
In the past week, students and other library users  have been popping in to chat with questions that include how to access the VPN, where to return library materials, and how to get late fines and fees removed from student bills. With the onset of classes, questions about how to find and access specific articles and books online are on the rise.
As of March 24, chat hours are: Sunday, noon to midnight; Monday- Thursday, 8:30 am – midnight; Friday, 8:30 am – 7 pm; and Saturday, 10 am – 5 pm. As the semester unfolds, the hours may be adjusted, Sider said, depending on demand as well as ongoing availability of staff. 
When chat is not available, library users may search the Ask Yale Library FAQs or email questions to askyalelibrary@yale.edu.
March 17, 2020,  2:30 pm Service Continuity at Yale Library
We regret the need to suspend Yale Library's scanning and digitization operations effective this afternoon until at least March 31 at which time we will review and reassess our service capabilities. We had anticipated maintaining digitization operations a little longer, but as we learn more about the COVID-19 virus and its potential spread, we believe suspending this service sooner is the prudent decision. We continue to provide library services remotely.
Librarians are available to conduct virtual research consultations by phone or Zoom; help identify online resources to support teaching, learning, or research; and provide virtual library instruction. Faculty, graduate and professional students, post-docs, or Yale College student who have declared a major should contact their department liaison librarians for assistance. First- or second-year undergraduates who have not yet declared a major, should contact their personal librarians. (A full list of medical, nursing, and public health faculty liaison librarians is here. Law faculty should consult the Continuity of Library Services memo from Lillian Goldman Law Library for contacts and advice.)
As previously announced, we have suspended check-out of library materials, physical interlibrary loan of books, and BorrowDirect until further notice. We cannot provide access to library spaces or materials on hold shelves at this time.
March 15, 2020,  10:50 pm Service Continuity at Yale Library
All library spaces have been closed as part of the university's effort to slow the spread of Covid-19, but library staff continue to support online teaching and research across the disciplines to Yale faculty, students, and staff.
Librarians are available to conduct virtual research consultations by phone or Zoom, to assist in identifying and accessing online resources, and to provide virtual library instruction for classes and individual students. Faculty, graduate and professional students, and upper level Yale College students should contact their subject area librarians for assistance. First- and second-year undergraduates who have not yet declared a major should contact their personal librarians. Faculty, students, and staff may also request digital humanities services from the Digital Humanities Lab, access GIS services by emailing gishelp@yale.edu, or sign up for a StatLab drop-in consultations via  Zoom.
Checking-out of physical materials from Yale Library, interlibrary loan and BorrowDirect have been suspended until at least March 31, at which time service capabilities will be reviewed and reassessed. In the meantime, patrons are asked to keep any items now in their possession until the libraries reopen. All fines and late fees will be waived.
Library staff are continuing to digitize materials to support courses that have moved online, with a focus on course reserve materials for which no electronic alternative is available. They are accepting and processing interlibrary loan scanning requests for articles and chapters, with the caveat that filling them depends on the capacity of partner libraries. Scan and Deliver requests from Yale faculty and students are also being accepted and processed, as are requests for digitization of special collections material to support Yale classes and student research.  Fulfilling these requests will likely take longer than usual, and the library's ability to continue offering the services may change with little notice.  With these uncertainties in mind, students and faculty are asked to prioritize their requests for items most urgently needed for teaching, research, practice, or course work. We regret that we cannot digitize audio-visual materials at this time, nor can we currently process digitizing requests of any kind from non-Yale patrons.
March 15, 2020,  3:40 pm
During the COVID-19 library closing, the majority of the library's databases and electronic resources are available to students and faculty off-campus with Yale VPN. Faculty and students should be aware, however, that a few of the databases cannot be accessed remotely by students under the terms of our licensing agreement. Our team of  business librarians is currently working with Yale faculty to find acceptable alternatives to three databases that our students can't access by VPN:  Datastream,  SDC Platinum and  Bloomberg. For more information, visit our  business and management research guide or email questions to business.reference@yale.edu. For information about licensed databases and electronic resources in other disciplines, contact the subject specialist librarian for that area.
March 14, 2020,  9 pm
All Yale libraries are closed until further notice; library staff working remotely will continue to provide online support for Yale classes and research.  
March 14, 2020, 11:35 am
Lillian Goldman Law Library is currently providing remote library services Monday through Friday, 9 am -5 pm.  Read the post on continuity of services at the law library.
March 14, 2020, 10:55 am
Lillian Goldman Law Library is closed. Law School announcement.
March 13, 2020, 2 pm
We realize that travel restrictions will prevent students and other library patrons from returning interlibrary loan or BorrowDirect items at this time. The library will be waiving all fines for these items. Renew items through the GetIt@Yale page (login required) or email borrowdirect@yale.edu. P.S. Please don't mail back materials at this time.
March 13, 2020, 1:40 pm
The Film Study Center (FSC), a department of Yale University Library, is currently closed and all film screenings have been cancelled. Yale ID holders wishing to access media from the FSC collection, should request delivery of the item, with the Sterling Memorial Library Hold Shelf selected as the pick-up location. This should be done through the Orbis or Quicksearch record for the item. As always, FSC media can be returned to other Yale Library locations. Contact FSC staff for assistance.
March 13, 2020, 5:15 am
Because access to Yale libraries is currently limited to Yale ID holders only, the library is unable to provide public access to physical government depository collections at this time.  Our online government information guides remain available and library staff will gladly respond to email inquiries about the depository collections. Inquiries may be directed to Kenya Flash (kenya.flash@yale.edu), Librarian for Political Science, Global Affairs, and Government Information at Yale University Library; or Cate Kellett (cate.kellett@yale.edu), Catalog and Government Documents Librarian at Lillian Goldman Law Library. We regret any inconvenience to the public and look forward to welcoming back all our patrons when the public health situation is resolved. In the meantime, members of the public may contact the Connecticut State Library at 860-757-6509 or csl.isref@ct.gov  for help accessing physical government information materials. Contact information for other nearby depository libraries can be found in the Federal Depository Library Directory.
March 12, 2020, 2:15 pm
All Yale libraries remain open at this time for Yale ID holders with the following exceptions:
* The Reference Library and Study Room of the Yale Center for British Art are closed until further notice. 
* Access to the Classics Library in Phelps Hall is limited to Classics faculty, students, and affiliates until further notice.   Classics Librarian Colin McCaffrey will continue to offer teaching and research support via email, Skype, or Zoom.  Library staff are reviewing the availability of current Classics reserve materials online and will consult with individual instructors regarding their class materials.
Going forward hours at some library locations may be modified to better support provision of in-person and online services. Please re-check  posted library hours immediately before visiting. 
March 11, 2020, 12:20 pm
All Yale libraries remain open at this time, and we continue to provide services to students, faculty, and staff in the libraries as well as through our online platforms.
Effective immediately and until further notice, access to all libraries will be limited to holders of a valid Yale ID. Access to the Cushing/Whitney Medical Library will also be open to holders of Yale New Haven Hospital IDs. We apologize for any inconvenience caused by these restrictions, which are necessary in order for us to support the university's latest COVID-19 guidance, including the decision to move classes online after Spring Break.
This means that our special collections reading rooms are also closed to visiting researchers until further notice, except for those who were already present and working in one of the repositories when this change went into effect.  If you have questions, please reach out directly to the individual special collections repositories.  
We appreciate your patience as we translate the university's latest guidelines into library procedures. We are developing ways to conduct research and reference consultations by Zoom and we are working to make as much of our physical course reserve materials available digitally as possible. Depending on staffing and as the situation evolves, library hours may be subject to change. Yale faculty, staff, and students should watch this space for further updates and check posted library hours immediately before visiting. Please direct any other questions to askyalelibrary@yale.edu. 
March 8, 2020, 5:40 pm
In conjunction with university leadership, Yale Library is monitoring possible impacts of the COVID-19 situation on library hours, services, spaces, staffing, and business functions. If any changes to library services become necessary in the coming days and weeks, we will post them here.  In accordance with the university's decision today to limit large campus gatherings, some library events will be cancelled or relocated. Before coming to campus for a library event, please check the specific event listing on the Yale calendar of events for any changes.  Non-Yale researchers planning travel to campus to access collection material may wish to postpone their visits until the situation becomes more clear.  In all cases, we  urge you  to review carefully and follow the university's travel and health guidance and these precautions for your well-being and safety. All visitors are subject to the same guidelines as the campus community. We thank you in advance for your understanding and support of our efforts to protect the health and safety of our community.