Giant Steps in Art Therapy Campus Tour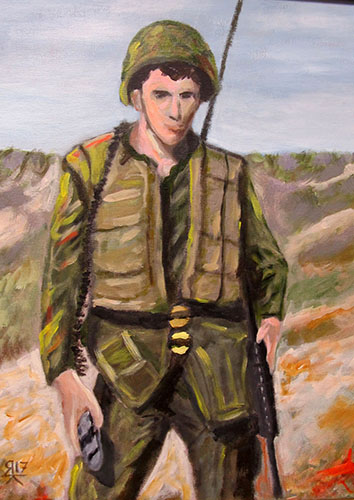 On Monday, September 18, the Haas Arts Library will be the first of several campus venues for a weeklong traveling showcase of artwork sponsored by the Yale Veterans Network (YVN). YVN is an affinity group designed to create a Yale community of veterans and to support career development and growth for all its members. YVN has an ongoing partnership with the Giant Steps Program, which is an art therapy program for veterans connected with VA Connecticut Healthcare.
Exhibit co-organizers are Angela Maria Malerba, YVN marketing and communications co-chair, and Laura Spinelli, director of the Giant Steps Program. The Haas Arts Library Special Collections holds related materials such as the Peace Paper Project Collection [1] (AOB 121) and several titles published by the Combat Paper Project [2]. More information about YVN as well as additional artworks from the Giant Steps Program can be found on the YVN website: http://yvn.yale.edu/ [3].