Jesse Marsolais on Stone Carving and Letterpress Printing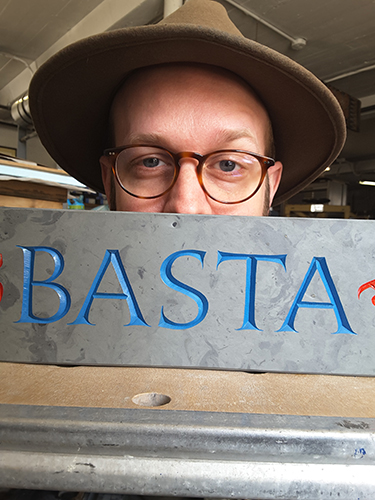 On Thursday, September 28, the Arts Library hosted letterpress printer and stone carver Jesse Marsolais. He spoke about his work and gave a stone carving demonstration in the Great Hall of the Arts Library. Marsolais maintains a "commitment to the original tools and methods of production," and attendees had the opportunity to see his mallet and chisel at work. 
This informal talk and demonstration was sponsored by the Yale University Library Bibliographical Press [1] and in conjunction with the current Arts Library exhibition, Learning from Letterforms, Past & Present [2]. The event was free and open to the public. For questions, contact Molly Dotson [3], Interim Associate Director for Arts Library Special Collections, Robert B. Haas Family Arts Library.