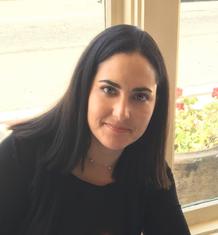 Sari Siegel, Hartman Fellow 18/19
Sari has an MA and PhD in history from the University of Southern California. The Geoffrey H. Hartman Postdoctoral Fellowship brings her back to Yale University, where she earned her BA in history in 2006. In addition to receiving numerous grants and fellowships, she has been a fellow-in-residence at the Center for Holocaust Studies at the Institute for Contemporary History, the Vienna Wiesenthal Institute, and the US Holocaust Memorial Museum's Jack, Joseph and Morton Mandel Center for Advanced Holocaust Studies. She has presented her research on Jewish prisoner-physicians at many conferences and workshops in the US and abroad.
Gabor Toth, FVAHT/DHLab Associate
Gabor graduated from the University of Oxford with a PhD in history. At the moment, Gabor is the Gerda Henkel Fellow of the German Historical Institute in Washington, DC. His main field of research is computer assisted analysis of historical texts. At Yale, in addition to writing a monograph on the experience of persecution, he will build a digital tool to explore transcripts of survivor testimonies.
Last modified:
Thursday, September 6, 2018 - 12:52pm