As Black History Month ends, Bass librarians and students keep the conversation going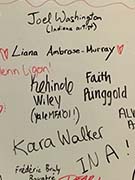 A Bass Library initiative to amplify underrepresented voices has generated a crowd-sourced reading list of books "by and about people of color". Now, students and librarians are looking for ways to keep that list growing.
"We see a real community conversation unfolding, and we want to support that," said Emily Horning, director of undergraduate programs at Bass Library.
The Reading Resilience Project invites members of the Yale community to suggest creative works via a book recommendation webform [1]. In February, in honor of Black History Month, recommendations were also solicited via a whiteboard in Bass.
"The response was amazing," Horning said.  "Within a few days, the board was covered with suggestions. Some students have offered just one title they feel passionately about; others have e-mailed entire bibliographies."
As of late February, the list had grown to 93 titles, from more than 100 recommenders—about half of whom are students.  (The full list is below.)
Some students added notes explaining the reasons for their recommendations. 
"This book is critical for understanding how Black girls and women navigate hostile territory and make a self," one senior wrote about Shapeshifters: Black Girls and the Choreography of Citizenship by Aimee Meredith Cox.
Song of Solomon by Toni Morrison, another senior wrote, is "beautiful, just beautiful."
The Reading Resilience Project was sparked by conversations between Horning and two students, Katherine Wyatt '16 and Peter Huang '16, in late 2015 during a wave of student activism aimed at making Yale more inclusive. The project went quietly in 2017 before being revived this year.
Now, Horning wants to make sure the conversation continues. The submission form will remain open and now can be used to recommend poetry, art objects, films, and other creative works by or about people of color.
Students and other Yale affiliates may add their own suggestions to the list [2] and then check out recommended books from the project, which are displayed near the Bass circulation desk.  Suggestions for other Bass Library initiatives may be emailed to Emily.horning@yale.edu [3].
Reading Resilience Project Booklist
A Chinese Life by Li Kunwu
A Different Mirror: A History of Multicultural America by Ronald Takaki
A Mercy by Toni Morrison
A Toast in the House of Friends by Akilah Oliver
African American Women Confront the West: 1600-2000 by Quintard Taylor and Shirley Ann Wilson Moore
Aloha America: Hula Circuits through the U.S. Empire by Adria Imada
Aloha Betrayed by Noenoe K. Silva
Americanah by Chimamanda Ngozi Adichie
An Unkindness of Ghosts by Rivers Solomon
Angela Davis: An Autobiography by Angela Davis
Another Country by James Baldwin
Aristotle and Dante Discover the Secrets of the Universe by Benjamin Alire Sáenz
Bad Feminist by Roxane Gay
Beauty is a Wound by Eka Kurniawan
Before You Suffocate Your Own Fool Self by Danielle Evans
Beloved by Toni Morrison
Between the World and Me by Ta-Nehisi Coates
Binti by Nnedi Okorafor
Black Like Me by John Howard Griffin
Bluest Eye by Toni Morrison
Borderlands/La Frontera: The New Mestiza by Gloria Anzaldua
Cane by Jean Toomer
Circle K Cycles by Karen Tei Yamashita
Code of the Street by Elijah Anderson
Cosmopolitan Canopy by Elijah Anderson
Cruising by Gerald Walker
Decolonizing Methodologies: Research and Indigenous Peoples by Linda Tuhiwai Smith
Feel Free by Zadie Smith
Fifteen Dogs by Andre Alexis
Fight or Flight (Shifting Tides Book 1)
For Colored Girls Who Have Considered Suicide / When the Rainbow is Enuf by Ntozake Shange
From a Native Daughter: Colonialism and Sovereignty in Hawaiʻi by Haunani Kay Trask
Ghana Must Go by Taiye Selasi
Giovanni's Room by James Baldwin
Go Tell it On the Mountain by James Baldwin
Half a Yellow Sun by Chimamanda Ngozi Adichie
Here Comes the Sun by Nicole Dennis-Benn
House on Mango Street by Sandra Cisneros 
How Tia Lola Came to Stay by Julia Alvarez
In Praise of Shadows by Jun'ichirō Tanizaki
Interpreter of Maladies by Jhumpa Lahiri
Invisible Man by Ralph Waldo Ellison
Jazz by Toni Morrison 
Like One of the Family; Conversations from a Domestic Life, by Alice Childress
Maud Martha by Gwendolyn Brooks
Ms. Marvel (Volumes 1-11) by G. Willow Wilson
Murgu by Artan Fuga
Never Fall Down by Patricia McCormick
Of Love and Dust by Ernest J. Gaines
On Beauty by Zadie Smith
Oreo by Fran Ross
Parable of the Sower by Octavia E. Butler
Passing by Nella Larsen
Persepolis by Marjane Satrapi
Pimp by Iceberg Slim
Please Look After Mom by Kyung-Sook Shin
Prison Writings: My Life is My Sundance by Leonard Peltier
Purple Hibiscus by Chimamanda Ngozi Adichie
Race Matters by Cornel West
Racecraft: The Soul of Inequality in America by Karen E. Fields and Barbara J. Fields
Regarding the Pain of Others by Susan Sontag
Reservation Blues by Sherman Alexie
Salvage the Bones by Jesmyn Ward
Searching for Zion by Emily Raboteau
Season of Migration to the North by Tayeb Salih
Shapeshifters: Black Girls and the Choreography of Citizenship by Aimee Meredith Cox
She Weeps Each Time You're Born: A Novel by Quan Barry
So Far from God by Ana Castillo
Song of Solomon by Toni Morrison
Swingtime by Zadie Smith
Teaching to Transgress by bell hooks
The Bluest Eye by Toni Morrison
The Brief Wondrous Life of Oscar Wao by Junot Diaz
The Broken Earth series by N.K. Jemisin
The Color Purple by Alice Walker
The Condemnation of Blackness by Khalil Muhammad
The Essential Tagore by Rabindranath Tagore
The Fifth Season by N. K. Jemisin
The Fire This Time by Jesmyn Ward
The Hate You Give by Angie Thomas
The Prey of Gods by Nicky Drayden
The Satanic Verses by Salman Rushdie
The Women of Brewster Place by Gloria Naylor
Their Eyes Were Watching God by Zora Neale Hurston
Things Fall Apart by Chinua Achebe
This Bridge Called My Back by Cherrie Moraga and Gloria Anzaldua, editors
This Is How You Lose Her by Junot Diaz
Tram 83 by Fiston Mwanza Mujila
When My Name Was Keoko by Linda Sue Park
When the Emperor Was Divine by Julie Otsuka
White Teeth by Zadie Smith
Zaatar Diva by Suheir Hammad
Zami: A New Spelling of My Name by Audre Lorde