Introducing the Library's new Director of Development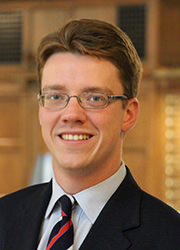 The Library recently welcomed a new Director of Development. Basie Bales Gitlin '10 B.A. brings to the position a remarkable combination of Yale knowledge, fundraising experience, and a deep and abiding love for libraries.   
During his college years, Basie worked as a curatorial assistant at the Beinecke Library and catalogued books for two rare book firms while forging an academic specialty in the history of the book. His dissertation at the University of Cambridge, from which he received an M.Phil. in 2011, examined how British donors were solicited for gifts to the Harvard and Yale libraries in the colonial period. In 2012, he joined the Yale Office of Development as a staff writer in the stewardship department. For the last two and a half years, as a front-line fundraiser for the Yale School of Management, he helped to establish the school's reunion and leadership giving programs and built strong relationships with countless donors, many of them new to philanthropy.
In his spare time, he serves on the boards of the Mory's Association and the Yale Alumni Fund, interviews prospective students as an Alumni Schools Committee member, and is a Fellow of Davenport College. He also co-chaired his 5th Reunion Gift Committee. With his father, Jay Gitlin, he co-authored a book, Mory's: A Brief History (2014), and an essay on Elihu Yale for the Yale University Art Gallery Bulletin 2012. A serious book collector, Basie has focused his efforts on the history of Yale and the history of books, libraries, and printing; he is an active member of the Grolier Club in New York City, the oldest society of bibliophiles in North America. His other hobbies include practicing and competing with the Yale Graduate Crew, haunting the Payne Whitney squash courts, and playing the drums.
Please don't hesitate to contact Basie with any questions relating to library fundraising. You can reach him at basie.gitlin@yale.edu [1] or at 203 432-9851.