Opening talk & reception for Moving Earth Exhibit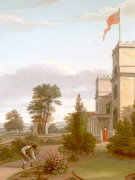 Join us for an opening talk & reception for Moving Earth: Capability Brown, Humphry Repton and the Creation of the English Landscape on Friday, April 8 at 3:00 pm in the Sterling Memorial Library Lecture Hall.
As one of England's greatest aesthetic achievements, the English landscape garden has become a well-known and defining characteristic of the country. With large sweeping expanses of lush green fields, groupings of trees, winding paths, and serpentine-shaped rivers and lakes, the English landscape appears as an ideal form of nature; it is, however, an expertly crafted construct. Countless hours of moving and reconstructing vast volumes of earth, water, trees and shrubbery demonstrate what can be achieved when combined with careful planning, design and an eye towards nature. Moving Earth explores the creation of the English Landscape through the advent of landscape gardening and the pioneering work of Capability Brown and Humphry Repton.
Curator, Elizabeth Morris, will showcase the abundance of both primary and secondary resources available at the Yale Center for British Art that provides the foundational basis for this exhibit and research into British art, culture and society.