Borrowing Privileges for Graduating Seniors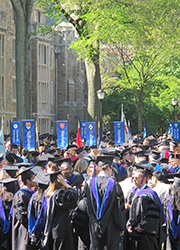 On behalf of the 550 staff of the Yale University Library, congratulations to all of our graduating students! We wish you every future success!
 
As a graduate of Yale College, your library access automatically expires on May 31, but you are entitled to three free months of borrowing privileges. You may set this up any time after May 11 by visiting the service desk in Sterling Memorial Library, open Monday-Friday from 8:30-4:45 and Saturday from 10:00-4:45.  Bring a government issued ID card, your student ID, and any materials that are currently checked out to your undergraduate library account. Don't worry - we can charge the same items out again to your new account! Please note: You will retain VPN access to our electronic resources through October 1. You will no longer have access to the following services after you register for borrowing privileges or after May 31, 2017:
 
Borrow Direct
Interlibrary Loan
Scan and Deliver
Bass Media Checkout
 
If you have any questions, please feel free to email askyale@gmail.com [1] or call our service desk at 203-432-1775.