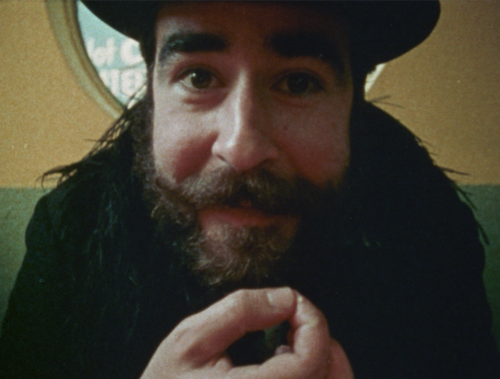 The Yale Film Study Center has completed preservation of Screentest, a short film made by Frank and Caroline Mouris in 1975. This live-action 16mm film from the Mourises, made with a grant from the American Film Institute, features nine creative artists donning costumes and taking part in performances on screen, while the soundtrack is made up of the artists' multilayered commentary on the film. In the words of Frank Mouris, a 1969 graduate of the Yale School of Art and Architecture, the film captures "the inventiveness that went into their visual imagery, the quickness with which they perceived and even anticipated visual trends, and the devoltion to their own particular kinds of artistry which bespoke a true professionalism in this activity which they performed mostly for themselves and their friends."
Working from the best surviving 16mm print after the negatives were lost, the Film Study Center worked with Colorlab, Audio Mechanics, and DJ Audio to create new preservation negavites and prints, as well as digital elements, for the film.
Image: Herman Costa from Screentest by Frank and Caroline Mouris, 1975.