The Yale Film Archive has more than 7,000 film prints and negatives in its collection, many of which represent the unique original materials of filmmakers, and some of which have been preserved by the Yale Film Archive. A few of the collections within the larger Film Archive holdings are profiled below. For more information on any of these collections, please contact Managing Archivist Brian Meacham via email.
The Spencer Berger Collection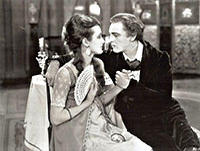 Spencer Berger of the Yale Class of 1940 was a film fan from his early days; the Spencer Berger Papers at Yale's Beinecke Rare Book and Manuscript Library contain his teenage correspondence with Universal Pictures founder Carl Laemmle, among other gems. In the 1960s, he was instrumental in Yale's acquisition of the John Griggs Collection, the collection which became the Yale Collection of Classic Films and was the seed for what is today the Yale Film Archive film collection. Through the 1980s and 1990s, he also donated films from his own personal collection to the Film Archive. Berger was a renowned expert on the Barrymore family, and many of the films he donated to the Archive feature the work of the Barrymores, including BEAU BRUMMELL (1924), at right.
In 2018, Berger's family donated dozens of films, including home movies, amateur productions, and industrial films made by Berger between the 1920s and 1960s, adding another facet to this important collection.
The Mary Ellen Bute Collection
Pioneering animator Mary Ellen Bute made a number of innovative and widely distributed abstract musical short films, including SYNCHROMY (1933), TARANTELLA (1940), COLOR RHAPSODIE (1948), and ABSTRONIC (1952). She studied stage lighting at Yale, and in the 1950s, made the move to live-action narrative, with the film THE BOY WHO SAW THROUGH (1956), an award-winning short film that marked the debut of Christopher Walken. Beginning in 1965, she made the feature length film PASSAGES FROM JAMES JOYCE'S FINNEGANS WAKE, an ambitious adaptation of Joyce's novel that combined live action and some of her signature abstract imagery. After her death in 1983, the Yale Film Archive acquired original negatives, production elements, and screening prints for much of Bute's work, including her later, unfinished films THE SKIN OF THEIR TEETH, based on the work of Thornton Wilder, and OUT OF THE CRADLE ENDLESSLY ROCKING, about Walt Whitman. With support from the National Film Preservation Foundation, the Film Archive preserved both THE BOY WHO SAW THROUGH and PASSAGES FROM JAMES JOYCE'S FINNEGANS WAKE in 2008-09. Scripts, correspondence, and photographs from the collection of Bute and her husband, cameraman Ted Nemeth, can be found in the Mary Ellen Bute Papers at the Beinecke Rare Book and Manuscript Library at Yale.
The S.W. Childs, Jr., Collection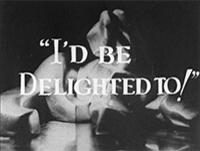 S.W. "Winkie" Childs, Jr., Yale College Class of 1927, was the producer of the first student film ever made at the university, and one of the first feature films made by undergraduates anywhere in the United States. The film, a feature-length adaptation of Henry Fielding's 1749 novel The History of Tom Jones, a Foundling, premiered at Yale's Sprague Hall on June 12, 1927. The only copy of Childs's TOM JONES, as well as dozens of other amateur films and hundreds of reels of home movies from the 1910s to 1960s, were donated by Childs's family to the Yale Film Archive in 2016.
In 2018, preservation of Childs's award-winning short film I'D BE DELIGHTED TO! (1932) was completed, and the film was premiered at the Orphan Film Symposium in New York. In 2019, the film SEDUCTIO AD ABSURDUM (1940), directed by Childs's wife Cynthia Childs, was preserved by the Film Archive, and premiered at the Northeast Historic Film Summer Symposium in Bucksport, Maine.
The Phyllis Chillingworth Collection
Painter Phyllis Chillingworth ART '69 made two short films during her time at Yale School of Art in the late 1960s, THE LEGEND OF ROCKMONOTONE (1969), seen here, and AT THE ZOO (1969), both made with Charlie Goetz ART '69. Both films include live-action footage which Chillingworth then blew up into large Kodalith sheets, adding colored gels and re-animating on an Oxberry animation stand to create the final imagery. In addition to these two films, the Chillingworth Collection also contains two trailers made by her friend Carolyn Lamont ART '70 as part of her MFA thesis. These trailers promote invented films that adapt Kurt Vonnegut's Cat's Cradle and Herman Hesse's Demain. Chilligworth went on to work on various projects including the animated opening titles for BANANAS (dir. Woody Allen, 1971), before a career as a graphic designer and painter.
The Nicholas Doob Collection
A native of New Haven, Nick Doob '69 is an Emmy award-winning cinematographer who has worked on two Academy Award-winning documentary shorts: FROM MAO TO MOZART (Dir. Murray Lerner, 1979) and SMILE PINKI (Dir. Megan Mylan, 2008). Doob began his filmmaking career during the summer of 1967, taking a filmmaking course through the Free School of Union Square. His first film, PLASTIC SAINTS (1968) features footage from the March on the Pentagon, shot during a trip to Washington, D.C., Doob made with his fellow students. In 2015, Doob donated original elements from his student films and early professional work to the Yale Film Archive. In 2016, the Film Archive was awarded a grant from the National Film Preservation Foundation to preserve PLASTIC SAINTS, COSTUMED DANCER (1968), and 42ND ST MOVIE (1968).
In 2018, the Archive completed preservation of Doob's first documentary feature film, STREET MUSIC (1979). The film collects performances by 17 street musicians in seven cities including Chicago, New Orleans, and San Francisco.
The John Griggs Collection
In April of 1968, a front page article in the Yale Daily News opened with the following line: "Yale has begun its own film archives by acquiring the Griggs Collection of Classic Films, Provost Charles Taylor announced yesterday." Acquired with financial assistance from three alumni including Fred Beinecke, the collection consisted of more than 200 16mm prints, mostly American silent films, and some twenty films made outside the U.S. and others dating from the sound era, that had been collected by John Griggs, an actor and film collector in New Jersey whose son attended Yale. Assistant Professor of Art History Standish Lawder was named curator of the collection, and Spencer Berger, another donor to the Yale Film Archive, acted as advisor to the new "Yale Film Collection." The Griggs Collection formed the seeds of the Film Archive's collection, and many of the prints from the original acquisition survive today, including THE GAUCHO (1927), pictured here.
The Warrington Hudlin Collection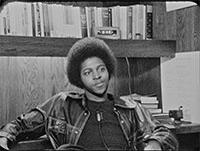 Warrington Hudlin, a member of the Yale College class of 1974, made two films focused on Yale and New Haven. First, as a senior at Yale, Hudlin made BLACK AT YALE: A FILM DIARY (1974), an hour-long documentary focusing on the experience of African-American students at the university, which he made as part of the Scholars of the House program. His second film, STREET CORNER STORIES (1977), focused on the working class African-Americans around Yale, and the tradition of street corner storytelling. Hudlin donated original film elements for these and other films to the Yale Film Archive in 2013. The Film Archive preserved BLACK AT YALE (right) from the original 16mm A/B rolls, courtesy of Anthology Film Archives, in 2017.
In 2018, the National Film Preservation Foundation awarded the Yale Film Archive a matching grant to support preservation of Hudlin's next feature, STREET CORNER STORIES (1977). Preservation work on that film, with original elements again courtesy of Anthology Film Archives, was completed in 2019.
The Alexis Krasilovsky Collection
Alexis Krasilovsky transferred to Yale in 1969, the first year of coeducation, and was a member of the class of 1971, among the first class of women to graduate from Yale College. While at Yale, she studied with filmmaker Murray Lerner, and began making her film END OF THE ART WORLD. While taking part in a Whitney Museum Independent Study Program in the spring of 1971, she spent time working with mentor Michael Snow, and borrowed a sync sound camera from D.A. Pennebaker '47 to film Robert Rauschenberg in his studio as well as Andy Warhol at his opening at the Whitney Museum. Snow, Rauschenberg, and Warhol, as well as Jasper Johns and Jo Baer, are featured in the finished film.
Thanks to a donation in 2018, the Yale Film Archive holds original elements and prints of END OF THE ART WORLD, as well as material on more than twenty other films by Krasilovsky, including THE IMAGE OF WOMEN IN FILM (1974), CREATED AND CONSUMED BY LIGHT (1976), and EXILE (1984). The collection also included prints and original elements for EPICENTER U. (1995), about the 1994 earthquake in Northridge, California, where Krasilovsky currently teaches film at California State University.
The Josh Morton Collection
Filmmaker, television director, and educator Josh Morton was a member of the Yale College class of 1967, and continued his study in the Yale School of Art & Architecture after graduation. He began volunteering with the New Haven chapter of the Black Panther Party, and made his first film, BREAKFAST, about the organization's free breakfast program for New Haven youth. He went on to help found May First Media, a New Haven-based media collective that documented protests and other events in the area, and directed the group's best-known work, MAYDAY (1970). In 2016, the Yale Film Archive preserved MAYDAY and another Black Panther-related short directed by Morton and May First, PUPPET SHOW (1970).
The Frank Mouris Collection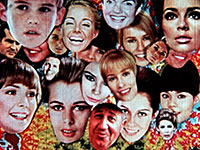 Frank Mouris ART '69 was born in 1945 in Key West, Florida. After graduating from Harvard with a major in Architectural Sciences, he was accepted into the Graphic Design program at the Yale School of Art and Architecture in 1967. Once there, he found that more than half of his small cohort of graphic design students also had an interest in film. Led by a "Machiavellian graphic design chairman … [with] far-reaching ambitions," as he put it in a 2010 interview with Animation Reporter, Mouris began making films using a homemade animation stand in the university's Chemistry Department. Mouris's films QUICK DREAM (1967) and YOU'RE NOT REAL PRETTY BUT YOU'RE MINE… (1968), as well as CONEY ISLAND EATS (1967) and CHEMICAL ARCHITECTURE (1968), both made with co-director Peter Schlaifer, were the result of assignments in courses at Yale. In 1975, his ground-breaking autobiographical animated short FRANK FILM was awarded the Academy Award for Best Animated Short. In 2014, Mouris donated original elements for his earliest films to the Yale Film Archive, and with support from the National Film Preservation Foundation, Mouris's first experiments with his signature style have been preserved on film.
The Film Archive has also preserved two films directed by Frank and Caroline Mouris. In 2019, preservation was completed on the 1979 live-action film SCREENTEST, working from the best available elements in the Mouris Collection at Yale. In 2020, the Yale Film Archive collaborated with the Academy Film Archive to preserve IMPASSE, the Mourises' 1978 animated short created using millions of Avery labels.
The Sedat Pakay Collection
Photographer and filmmaker Sedat Pakay (1945-2016) was born in Turkey and came to the United States to attend the Yale School of Art and Architecture in 1964. Pakay studied with Walker Evans, as his only student that year, and in 1970, made a film about the photographer, WALKER EVANS: HIS TIME, HIS PRESENCE, HIS SILENCE. Materials from this film and other work by Pakay as director and cinematographer are held by the Yale Film Archive, thanks to a donation by Kathy Pakay.
Through a friend, the well-known Turkish actor Engin Cezzar, Pakay met James Baldwin, who lived in Istanbul on and off between 1961 and 1971. In 1973, Pakay made the short film JAMES BALDWIN: FROM ANOTHER PLACE, and in 2019, the National Film Preservation Foundation awarded the Film Archive a grant to preserve the film from the original 35mm elements. Preservation work on the film was completed in early 2021.
The Willie Ruff Collection
Internationally acclaimed jazz musician, educator, and filmmaker Willie Ruff was born in Sheffield, Alabama, and received his bachelor's degree (1953) and master's degree (1954) from the Yale School of Music. Ruff was a member of the School of Music faculty from 1971 to 2017. In between teaching at UCLA and Yale (among other universities) and touring with pianist Dwike Mitchell as the Mitchell-Ruff duo, Ruff made a number of films focusing on the history of jazz and African-American musical traditions. Thanks to a donation by Prof. Ruff, the Yale Film Archive holds original film elements for his films TONY WILLIAMS IN AFRICA (1973) and SHANGHAI BLUES (1981), as well as prints of music documentaries in which he appears, including THE DISTANT SOUNDS (1967) seen at right and YONDER COME DAY (1975).
In 2019, the Film Archive preserved Ruff's 1981 documentary short THE BEGINNINGS OF BEBOP, which captures an afternoon spent touring locations in the history of bebop with Dizzy Gillespie, from the original 16mm film elements donated by Ruff. In 2020, the NFPF awarded the Archive a grant to preserve TONY WILLIAMS IN AFRICA, which documents a trip Ruff, Mitchell, and the legendary drummer Tony Williams made to Senegal to explore the phenomenon of the talking drum.
The Norman Weissman Collection
For more than four decades, Norman Weissman wrote, directed, and produced works for film and television including documentary films for the United States Information Agency, travelogues on scuba diving, television specials covering topics ranging from Muhammad Ali to trash collection in New York, and industrial films for such companies as IBM, Georgia Pacific, Pfizer, and Shell. In 2017, Weissman donated unique 16mm and 35mm prints of his films, including AN ADVENTURE IN FRIENDSHIP (1948), THE SCHOOL OF THE OZARKS (1958), and IMPULSE '90 (1968), seen here, to the Yale Film Archive.
Last modified:
Thursday, September 16, 2021 - 2:22pm