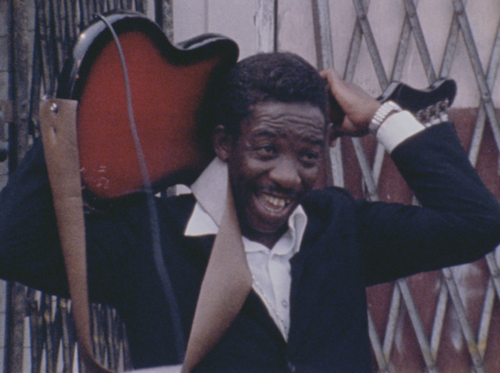 Join Treasures from the Yale Film Archive online for a conversation with Yale alumnus and Emmy Award-winning filmmaker Nick Doob '69, in conjunction with the online debut of his 1979 feature documentary Street Music. A collection of performances by street musicians across the country, from New York to San Francisco, New Orleans to Chicago, the film presents 19 musicians in seven cities, and was one of Doob's first feature-length films. Among the singers, guitarists, drummers, dancers, and other artists, Doob includes street performance legends such as Brother Blue, Gene Palma, Bongo Joe, the Automatic Human Jukebox, and bluesman Jimmy Davis. The film captures a cross-section of Americans filled with raw talent, showmanship, and hustle, and presents a time capsule of the fashion, architecture, and culture of the 1970s. Doob donated original materials for Street Music and numerous other films to the Yale Film Archive in 2015. Thanks to a grant from the National Film Preservation Foundation, three of his earlierst student films were preserved on film by the Yale Film Archive in 2017: Plastic Saints (1968), Costumed Dancer (1969), and 42nd St Movie (1969). Along with Street Music, preserved in 2018, new prints of all four films premiered in a 2019 Treasures screening with Nick Doob in person.
In this new conversation, Doob discusses the making of Street Music, filmmaking as a student at Yale, and his work with fellow Yale filmmaking legends D.A. Pennebaker, Paul Newman, and George Roy Hill.
Watch the Filmmaker Conversation (34 mins)
Watch Street Music (57 mins)
Both videos are presented with optional closed captioning, and both are available for viewing through the end of December, 2020.
What is Treasures from the Yale Film Archive?
Treasures from the Yale Film Archive is an ongoing series of classic and contemporary films in 35mm curated by the Yale Film Study Center and screened at the Whitney Humanities Center.