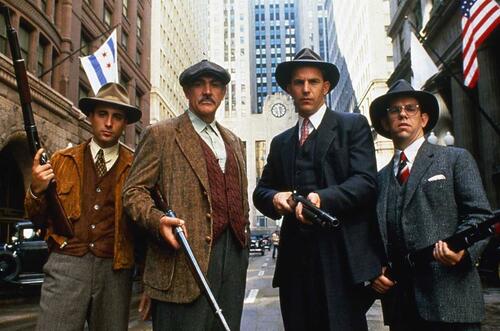 The Untouchables (Brian De Palma, 1987, 119 mins)
Prohibition agent Eliot Ness goes after Al Capone in this "unqualified triumph" (James Berardinelli) starring Kevin Costner, Robert De Niro, Andy García, and an Oscar-winning Sean Connery. "Superb performances, exquisite direction, and that Ennio Morricone score create an authentic 1920s Chicago feel and a hugely entertaining crime drama" (Ian Nathan). 35mm print from the Yale Film Archive.
Free and open to the public. All attendees must be asymptomatic and fully vaccinated against COVID-19 (including boosters when eligible) and should be prepared to show proof of vaccination. Masks are recommended.
Time/Date:
7 p.m. Friday, Jan. 13
Location:
Humanities Quadrangle, Room L02
320 York Street
New Haven, CT
Treasures from the Yale Film Archive is an ongoing series of classic and contemporary films in 35mm curated by the Yale Film Archive, presented with support from Paul L. Joskow '70 M.Phil., '72 Ph.D.