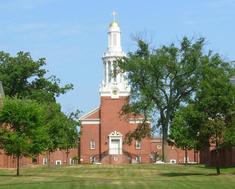 The Yale Divinity Library supports teaching and research in disciplines related to Christianity with particular strength in Bible, theology, and the history of Christianity.  The Day Missions Collection is the strongest collection of its kind anywhere in the world.  The Ministry Resource Center houses material supporting the practice of ministry.
What's Available:
Printer
Public Computer
Natural Light
Monitor/Projector
Individual Tables
Large Tables
Scanner
Group Study Rooms
Chalk Board/White Board
Eli Express Delivery Location
Electrical Outlets
Hours
Access
A valid Yale ID with activated swipe access is required for entry.
The Divinity Library Special Collections reading room is open, by appointment only, with the same restrictions and requirements.
Directions
The Divinity Library is located within the Divinity School building.  The main entrance is along the north driveway, past the stairs that lead into the quadrangle.  Walk up the driveway until you see a portico over the main entrance. Once inside, bear left and follow the interior corridor around to the library entrance.