The Yale Film Study Center has over 5,000 35mm and 16mm films from a wide variety of genres and national cinemas.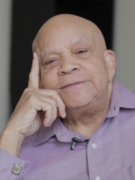 Join us online for a conversation with musician, filmmaker, educator, and Yale alumnus Willie Ruff, along with his Yale-preserved jazz documentary The Beginnings of Bebop, starring Dizzy Gillespie.
Due to the COVID-19 situation, the Yale Film Study Center will be closed until further notice, along with all other Yale Library buildings. Visit this page for more information.