The Yale Film Study Center has over 5,000 35mm and 16mm films from a wide variety of genres and national cinemas.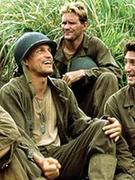 Join us for a 20th anniversary screening of Terrence Malick's World War II epic The Thin Red Line. 7 p.m. Saturday, Jan. 12, at the Whitney Humanities Center (53 Wall Street). 35mm print form the Yale Film Archive. Free and open to the public.
The new slate for the Treasures series features Terrence Malick's The Thin Red Line, Marc Caro and Jean-Pierre Jeunet's The City of Lost Children, Gus Van Sant's Milk, Jafar Panahi's The Circle, Robert Rossen's The Hustler, and an evening with filmmaker Nick Doob. All screenings are free and open to the public.