The Yale Film Study Center has over 5,000 35mm and 16mm films from a wide variety of genres and national cinemas.
Emmy-winning Yale graduate and New Haven native Nick Doob returns to campus for a screening and discussion of four of his newly-preserved films. 7 p.m. Friday, April 26, at the Whitney Humanities Center (53 Wall Street). 16mm prints from the Yale Film Archive. Free and open to the public.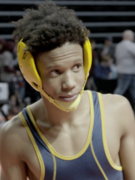 Wrestle presents an intimate, inspiring, coming-of-age portrait of an Alabama high school wrestling team, followed by a discussion with Jaylin Houston and Marcello Catapano. 7 p.m. Tuesday, April 30, Linsly-Chittenden Hall, Room 102 (63 High Street). Free and open to the public.