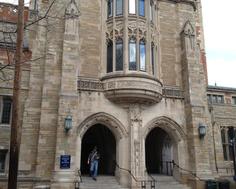 Lillian Goldman Law Library
The Lillian Goldman Law Library is located within the heart of the Yale Law School complex, providing the Law School community with ready access to one of the world's finest collections of printed legal materials.  A major goal of the Law School's library is to support the needs of twenty-first-century legal researchers by integrating access to print and online sources throughout the library.
What's Available:
Printer
Public Computer
Natural Light
Monitor/Projector
Individual Tables
Large Tables
Scanner
Chalk Board/White Board
Cell Phone Service
Color Printer
Eli Express Delivery Location
Electrical Outlets
Couches
Conversation Allowed
Hours
Accessibility
The entrance to the Yale Law School building is accessible via a ramp at the Wall Street entrance.  Once inside, proceed to the ramp on the left. The elevator is located halfway down the corridor on the left side.
The Lillian Goldman Library is committed to ensuring equitable access to all of its collections.  Library users with disabilities are encouraged to contact Julian Aiken or Cesar Zapata to make arrangements for the following services:
Paging of books
Assistance with the online catalog
Modification of lending rules on an individual basis as needed
Ensuring of access to microform readers, computers and other library equipment as needed
Referral to a reference librarian
Access
The law library is open to the Yale community during posted hours. Access may be limited to the Law School Community at various times, including the reading and exam period, so please check the law library website for updates before visiting.
Directions
The Law School is located in the block between the Grove St. cemetery and Sterling Memorial Library. To access the Library, enter the Law School at the Wall Street door, and follow the main stairway up to the third floor.