Emily Dickinson's family shown in silhouette. Detail of a photograph in the Todd-Bingham Picture Collection.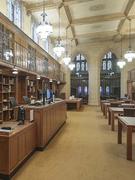 A summary of new archival collections, or additions to existing collections, on which processing was completed between January-April 2019. These collections are now available to researchers unless access restrictions are indicated in the finding aid. A link to the online finding aid for each collection included is provided.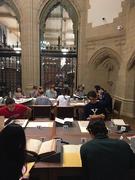 It has been seven months since our move back into our beautifully renovated public service spaces in the Wall Street wing of Sterling Memorial Library. We've had a semester and a summer of Yale students and other researchers back in full force, enjoying the modernized lighting, comfortable and functional furniture, state-of-the-art climate control, and the relative quiet that has resulted from relocating all staff not primarily responsible for public service operations out of the reading room area. The renovation has been deemed an unqualified success by both researchers and staff members!