Drawing of the Manuscript Society House in New Haven, Connecticut. From the King-Lui Wu Papers (MS 1842).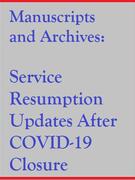 Manuscripts and Archives, in Yale University's Sterling Memorial Library, began a phased reopening on July 22, 2020, that will continue gradually through Fall term 2020. Please consult our information guide for the most up-to-date news about our resumption of services following Yale's COVID-19 closure.
The following information on recent archival processing work at Manuscripts and Archives (MSSA) was written by Alison Clemens, Head of Processing.  I typically share quarterly updates about collections and additions to collections for which MSSA has recently acquired and completed processing. MSSA processing staff are still working primarily remotely but have had occasional access to the Sterling Memorial Library (SML) building.