View of the top of Harkness Tower on a snowy day. Detail of a photograph from RU 690, Yale events and activities photographs, 1852-2003.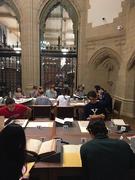 It has been seven months since our move back into our beautifully renovated public service spaces in the Wall Street wing of Sterling Memorial Library. We've had a semester and a summer of Yale students and other researchers back in full force, enjoying the modernized lighting, comfortable and functional furniture, state-of-the-art climate control, and the relative quiet that has resulted from relocating all staff not primarily responsible for public service operations out of the reading room area. The renovation has been deemed an unqualified success by both researchers and staff members!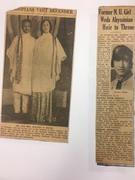 In 1931, Dorothy Hadley of Evanston, Illinois, married Prince Malaku Bayen of Ethiopia, Nephew of Haile Selassie I. Malaku Bayen was studying to be a doctor at Howard University, and upon the completion of his degree, he returned with Dorothy Hadley Bayen and their son Chip to Ethiopia.