Emily Dickinson's family shown in silhouette. Detail of a photograph in the Todd-Bingham Picture Collection.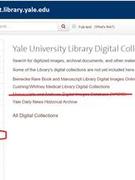 After many years of faithful service our beloved Manuscripts and Archives Digital Images Database (MADID) will retire in January 2020. MADID's happy retirement is made possible by the migration of the MADID images to FindIt, Yale University Library's central digital collections search engine.
The Kingman Brewster Personal Papers (Finding aid) are now open to research. Brewster (1919-1988) was a noted American educator, who became especially well-known when he served as president of Yale University from 1964 to 1977.