Search Digital Collections
This is one of the collection of painting by Edward Lear in the Yale Center for British Art.  Lear, a naturalist painter, spent about a year in Darjeeling, in the Himalayas. 
Treasures from the Yale Film Archive: 16 MILLIMETER EARRINGS
Join us for the online debut of 16 Millimeter Earrings, a Yale-preserved film of the Meredith Monk performance piece, along with a conversation with filmmaker and Yale alumnus Robert S. Withers.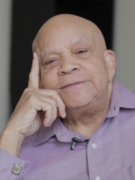 Treasures from the Yale Film Archive: Willie Ruff Online Screening & Filmmaker Conversation
Join us online for a conversation with musician, filmmaker, educator, and Yale alumnus Willie Ruff, along with his Yale-preserved jazz documentary The Beginnings of Bebop, starring Dizzy Gillespie.