Search Digital Collections
Map of Syria, 1542, from the Rudimenta cosmographica by Johannes Honter (1498-1549). From the collections of the Beinecke Rare Book and Manuscript Library.
Treasures from the Yale Film Archive: IMPASSE by Frank and Caroline Mouris
Join us online for a conversation with animators Caroline and Frank Mouris ART '69, along with the online debut of their recently-preserved short film Impasse (1978).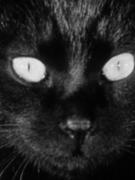 Terrors from the Yale Film Archive
Online film frights for Yale students, faculty and staff. Yale NetID required.