Search Digital Collections
The pre-Islamic Arab god Arsu riding a camel, excavated in 1935 by the Yale-French Excavations at Dura-Europos.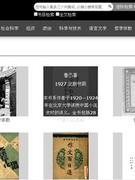 A trial for two Erudition (愛如生) Chinese language databases, Zhongguo jin shi ku《中國金石庫》 and Zhongguo lei shu ku《中國類書庫》, has been set up for Yale University users from now to October 26, 2018. The trial information has been added to the Library's Chinese studies research guide: https://guides.library.yale.edu/China.
...
Read more