This exhibit celebrates the personal accomplishments and contributions of the women of YDS to the life and legacy of the school. It spotlights twelve "Trailblazers": some of first women students, faculty, and administrators of Yale Divinity School. Until August 14, 2020.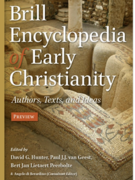 The Library now subscribes to the Brill Encyclopedia of Early Christianity Online
This online resource focuses on the history of early Christianity up to 600 CE and provides a critical review of the methods used in Early Christian Studies, covering iconography, martyrology, theological traditions, and cultic phenomenon.