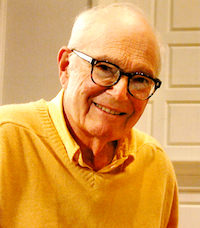 Ezra Laderman (1924-2015) ranks among the leading American composers of his era. He served as Dean and Professor of Composition at the Yale School of Music, and also as the President of the American Academy of Arts and Letters, the American Music Center, and the National Music Council. Our exhibit, which includes music, photographs, and other materials, draws upon the Ezra Laderman Papers as well as several items lent to us by his widow, Dr. Aimlee Laderman. It is being held in conjunction with a memorial concert at the Yale School of Music on March 2.
In addition to this exhibition, numerous resources related to Laderman can be found in the Music Library, including many scores and recordings, as well as interviews within the collections of the Oral History of American Music (OHAM). 
An online version of this exhibit is also available.