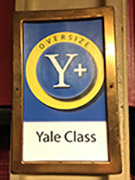 A home-grown library classification system that has challenged generations of incoming Yalies is being phased out of the Sterling Memorial Library stack tower. Thousands of books will soon be easier to find in the online catalog and on the shelves. 
Back in 1890, Yale librarians developed their own numbering system for classifying books. Known as "Yale-Class," the system was used for more than eighty years. In the 1970s, the library moved to the increasingly universal Library of Congress classification system, but some 400,000 books retained their Yale-Class call numbers, enough to fill three levels of Sterling Memorial Library's fifteen-level stack tower. 
The dual system was confusing for students and other library users—and sometimes even for trained staff. "It's one of the most common shelving errors to shelve in the wrong classification," said Christopher Killheffer, associate director for access service operations. "Despite lots of double checking, it's pretty much inevitable."
In addition, as card catalogs gave way to online discovery systems, electronic records for many Yale-Class books were incomplete or missing, making the books virtually invisible to library users searching online.
Now, all that is changing. On the seventh floor of Sterling, a five-person project team is retrieving the Yale-Class books from the stacks, one rolling book cart at a time, to assess their physical condition, update their catalog records, and make them easier to locate in the future. 
Books in poor repair—up to 40 percent of the total—are being flagged for protective measures or conservation. Any books published before 1800, or otherwise rare, are being transferred to the Beinecke Rare Book and Manuscript Library. Books that have circulated recently or that subject librarians deem important to their disciplines will be re-classed in the Library of Congress system and re-shelved in Sterling. Less-used books will keep their Yale-Class call numbers and be stored at Yale's Library Shelving Facility in Hamden, from where, thanks to updated catalog records, they can be rapidly retrieved and delivered to any Yale library on request. 
By January 2019, if all goes according to plan, the Sterling stacks will be fully re-classed and re-ordered in the Library of Congress system, and the entire collection will be more readily discoverable. "It's an immensely complicated project at an ambitious pace, but we are having great success because of the diligence and dedication of the project team," Killheffer said. 
The last time the library shuffled so many books was to empty out Seeley G. Mudd Library, torn down in 2013 to make way for the two newest residential colleges. When that project was completed, use of the collection materials rose because people could find them more easily.