Preservation Lecture Series
Past Lectures:
JACK ('47) AND BETSY O'NEILL PRESERVATION LECTURE

Thursday, May 5, 2016
To view lecture click here.
Beth Doyle, Head of Conservation Services Department, Leona B. Carpenter Senior Conservator, Duke University Libraries since 2002. She holds a Bachelor of Arts in Photography from the University of Dayton (Ohio), and a Master of Library and Information Science with a Certificate of Advanced Study in Library and Archival Conservation from the University of Texas at Austin School of Library and Information Science. She is active at the local and state level, and has served on several American Library Association and American Institute for Conservation interest groups. Beth was granted Fellow status in the American Institute for Conservation in 2014.
Eliza Gilligan is the Book Conservator for University Library Collections at University of Virginia Library where she has worked since March of 2009.  Prior to UVa, Eliza worked at the Smithsonian Institution Libraries and Michigan State University Libraries.  Eliza designed conservation labs for all three institutions and participated in multiple renovations and re-configurations of conservation and preservation work spaces.  In 2000 Eliza received a Master of Library and Information Science with a Certificate of Advanced Study in Library and Archival Conservation from the University of Texas at Austin School of Library and Information Science.
Jennifer Hain Teper is the Bud Velde Preservation Librarian, Head of Preservation at the University of Illinois Libraries where she began as the head of conservation in 2001.  In 2000 she received a Master of Library and Information Science with a Certificate of Advanced Study in Library and Archival Conservation from the University of Texas at Austin School of Library and Information Science.  Jennifer teaches several preservation and conservation related courses in the Graduate School of Library and Information Science at the University of Illinois and also serves as an instructor at the Campbell Center for Historic Preservation.  She designed the U of I's conservation lab which opened in 2006 and edited the 2012 book "The Planning and Construction of Book and Paper Conservation Laboratories: A Guidebook".
Christine McCarthy is Chief Conservator for Conservation & Exhibition Services' Preservation Department at Yale University Library.  She joined the YUL staff in 2008, as the head of Special Collections Conservation.  In 2010, Christine's responsibilities expanded to include the conservation operations for the general collections, in addition to exhibition support and special collections treatment. She represents Yale University's conservation community as an active member of Mellon-funded international project, ConservationSpace.  Christine received her Master of Library and Information Science and a Certificate in Advance Study in Library & Archival Conservation from the University of Texas at Austin and a BFA in illustration and design from the University of the Arts in Philadelphia.  She is a Professional Associate Member of the American Institute for Conservation (AIC).  In her previous positions at the University of Chicago and MIT, she established new programs.  At the University of Chicago she worked with architects to design a treatment laboratory as part of a building expansion for the Regenstein Library.
********************************************************************************
JACK ('47) AND BETSY O'NEILL PRESERVATION LECTURE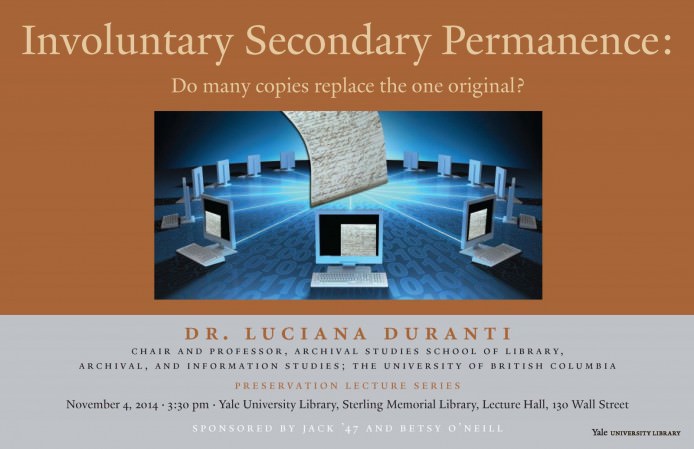 Tuesday, November 4, 2014
Luciana Duranti, PhD is Chair of Archival Studies at the School of Library, Archival and Information Studies of the University of British Columbia (UBC), and a Professor of archival theory, diplomatics, and the management of digital records in both its master's and doctoral archival programs. She is also Faculty Associate Member of the University of British Columbia College for Interdisciplinary Studies, Media and Graphics Interdisciplinary Centre, and in 2011, by virtue of her overall academic record, she was awarded the position of Affiliate Full Professor at the University of Washington iSchool.  She received her degrees from the University of Roma, La Sapienza.
Dr. Duranti spoke on digital surrogates within the field of diplomatics.  You may view her slides here.  Please click here to watch the full lecture.
********************************************************************************
JACK ('47) AND BETSY O'NEILL PRESERVATION LECTURE
Thursday, November 21, 2013
Aniko Bezur, director of scientific research at the Yale Center for Conservation and Preservation (CCAP), has a PhD in materials science and engineering from the University of Arizona. Prior to her appoint as science director of CCAP, she was the Andrew W. Mellon research scientist for the Museum of Fine Arts, Houston, and the Menil Collection (2008-2012); worked at the Art Institute of Chicago as associate conservation scientist; and served as a lecturer and assistant professor of conservation science in the Art Conservation Department at Buffalo State College.
Bezur discussed the first phase of Yale's Center for Conservation and Preservation (CCAP); completed in Spring 2013 with the construction of its scientific research laboratories. This talk introduced the scientific staff and facilities of the CCAP, showcased ongoing projects, and explored plans for harnessing the Center's unique setting and academic context.
This lecture was not recorded.
********************************************************************************
JACK ('47) AND BETSY O'NEILL PRESERVATION LECTURE
Thursday, April 19, 2012
Mary M. Brooks, PhD, FIIC, ACR, Private Conservator and Consultant on the conservation of textiles
After reading English at Cambridge University, Mary worked in the book world before moving into management consultancy and gaining a Diploma in Management Studies. She then developed her long-term interest in textiles by taking the post-graduate Diploma in Textile Conservation, Textile Conservation Centre and has worked as conservator and curator in museums in USA, Europe and England. Exhibitions curated include the award-wining exhibition Stop the Rot at York Castle Museum which aimed to raise public awareness of heritage conservation. She was Head of Studies and Research at the Textile Conservation Centre and subsequently Reader and Program Leader for their MA Museum & Galleries. She now works independently undertaking conservation and museum projects as well as teaching conservation and museology in Universities in the United Kingdom and abroad. Mary has a particular interest in the contribution that object-based research and conservation approaches can make to the wider interpretation and presentation of cultural artifacts. Other research areas include seventeenth century embroideries, X-radiography of textiles and dress, regenerated protein fibers and educational methodologies for teaching and learning in conservation and museum studies.
Please click here to play the audio file of the presentation.
*******************************************************************************
The first three Preservation Lectures were funded through the generous donation of the Hon. Paul S. Stevens '74 B.A.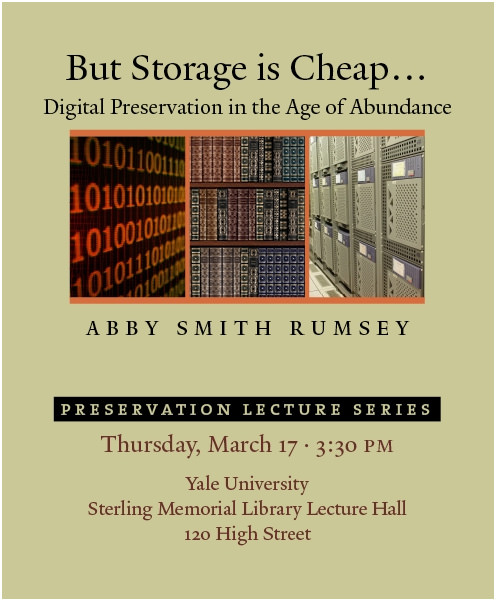 Thursday, March 17, 2011
Abbey Smith Rumsey, Director, Scholarly Communication Institute
Abby Smith Rumsey is a historian and consulting analyst with special interest in the creation, preservation, and use of the cultural record in a variety of media; the impact of digital information technologies on cultural heritage institutions; and the evolving role of information as a public good. She is director of the Scholarly Communication Institute at the University of Virginia. She works with the Library of Congress's National Digital Information Infrastructure and Preservation Program (NDIIPP) in development of its national strategy to identify, collect, and preserve digital content of long-term value. She served as a member of the Blue Ribbon Task Force on Sustainable Digital Preservation and Access and was the senior writer and editor for the task force's final report. She has served as an advisor to the ACLS Commission on the Cyberinfrastructure for the Humanities and Social Sciences. Previously she worked as director of programs at the Council on Library and Information Resources in Washington, DC; and at the Library of Congress managing programs relating to preservation of and access to cultural heritage collections.  Abby holds a doctoral degree in Russian history from Harvard University and has taught at Harvard and Johns Hopkins Universities. She has published widely on cultural heritage, preservation, and scholarship in the digital age.
Please click here to watch this lecture
*************************************************************************************
November 11, 2010
Helen Shenton
At the time of the lecture Helen had recently assumed the position of Executive Director of Harvard University Library, previously she had been the head of collection care for the British Library's Centre for Conservation.  Shenton studied English Literature at University College London and trained at the London College of Printing and with the arts and crafts book conservator Roger Powell. She joined the British Library in 1998 after 14 years in the conservation department of the Victoria and Albert Museum, where she was responsible for the textiles, paper, paintings, photography, and book disciplines.  She was a founding board member of the UK's Digital Preservation coalition, Executive Board member and Chair of Preservation Division of LIBER and the UK rep for IFLA.  She's given evidence to House of Lords Science and Technology investigation into Science and Heritage and among her many memberships she is a Fellow of the Royal Society of Arts ("Brother" of the Art Worker's Guild!).
Please click here to watch this lecture.
**********************************************************************************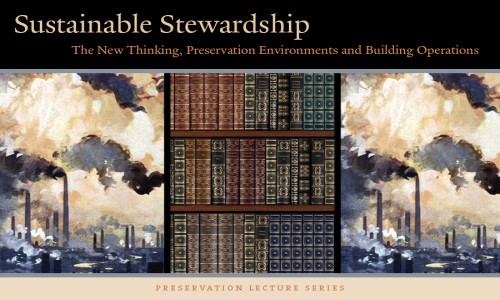 April 7, 2010
James J. Reilly, Director, Image Permanence Institute
Jim is the founder and Director of the Image Permanence Institute (IPI) at Rochester Institute of Technology in Rochester, New York.  IPI is an academic Research Laboratory devoted to preservation technology and image preservation.  He has made important contributions to image preservation, environmental management, and sustainable preservation practices.  He is the recipient of numerous awards including a Technical Achievement Award from the Academy of Motion Picture Arts & Sciences in 1998, the Silver Light Award for Lifetime Achievement from the Association of Moving Image Archivists in 2002, and was the first winner of the Hewlett-Packard Image Permanence Award from the Society for Imaging Science and Technology in 2007.  His Care and Identification of 19th-Century Photographic Prints, published in 1986 is a classic and The IPI Storage Guide for Acetate Film published in 1993 set a new standard for preservation guides.
Please click here to watch this lecture.
Last modified:
Thursday, December 22, 2016 - 11:21am