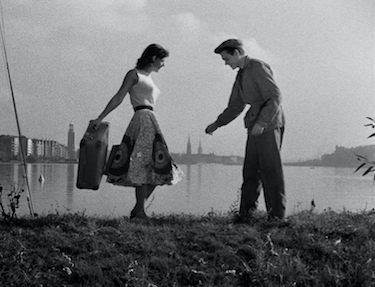 Through Bergman's Lens: Ingmar Bergman Centenary Film Series begins with two films from 1953 starring the great Harriet Andersson. Dave Kehr wrote that Summer with Monika shows Bergman's "developing ability to probe the psychology of a rich, vital woman without losing his objectivity," while Derek Adams praised Sawdust and Tinsel's "richly baroque compositions and persistent use of deep focus brilliantly exploiting the circus and theatre settings." 35mm prints from the Yale Film Archive.
Visit the event page and see the series poster!
Time/Date:
Thursday, Sept. 20
6 p.m. Opening Reception
7 p.m. Summer with Monika (1953, 97 mins)
9 p.m. Sawdust and Tinsel (1953, 93 mins)
Location:
Whitney Humanities Center Auditorium
53 Wall Street
New Haven, CT 06511
Through Bergman's Lens is presented by the Yale Film Study Center and Films at the Whitney with support from Paul L. Joskow '70 M.Phil., '72 Ph.D.