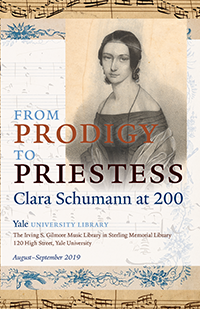 On September 13, 2019, we celebrate the 200th anniversary of the birth of Clara Wieck Schumann (1819–1896), one of the most brilliant and influential musicians of the nineteenth century. Beginning as a dazzling child prodigy and ending as a black-clad "priestess" of high art, she was in the spotlight for six decades. She earned her greatest acclaim as a pianist, and she also achieved considerable success as a composer and as a teacher. She was a central figure in the lives of two other renowned composers: her husband Robert Schumann, and their friend Johannes Brahms.
The Music Library's latest exhibit, From Prodigy to Priestess: Clara Schumann at 200, features two manuscripts and two letters in her own hand, along with manuscripts by Robert Schumann and Brahms, as well as images and modern sound recordings.
In addition to the physical exhibit now on display in the corridor outside the Gilmore Music Library, an online version is also available.