Arts Library Group Study Rooms
All three group study rooms (108, B35, and B36) seat six to eight people.
Graduate students have priority access to Study Room 108; study rooms B35 and B36 are available for online reservation at http://schedule.yale.edu/booking/artslibrarygroupstudyrooms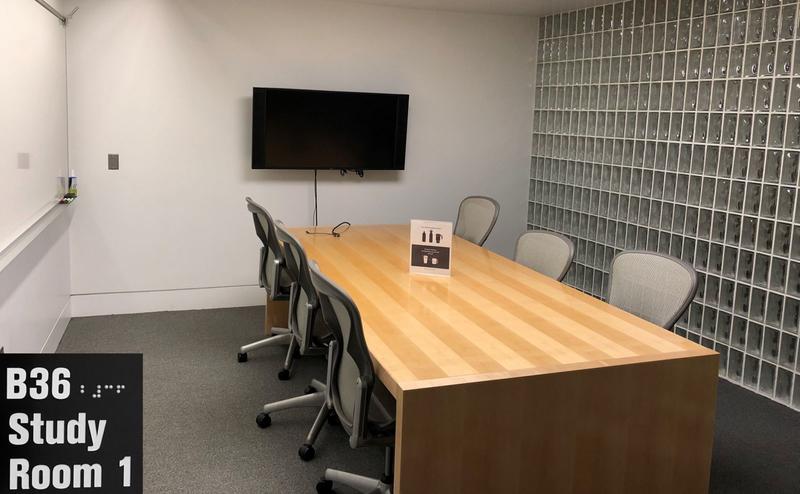 Each room contains a wall-mounted flat screen monitor and dry erase board. Personal laptops can connect to the screens. To connect a Mac laptop to the screens, please bring a Mini-DVI to DVI adapter with you. Remote controls are available for checkout at the Arts Library Service Desk.
Group study rooms may be reserved by anyone with a Yale email address; however, they are not intended to be used for social functions or regularly-scheduled classes or seminars.
For more information on reserving group study spaces, classroom spaces and related services on Yale's campus, please see the following:
Policies
Group study rooms B35 and B36 may be reserved up to one week in advance, for up to two hours per group, per day, online at http://schedule.yale.edu/booking/artslibrarygroupstudyrooms.
Group study rooms are reserved for use by two or more people. Rooms can be reserved in 30-minute blocks, up to the 30-minute block prior to closing.
A Yale University email address is required to make a reservation (non-Yale email users should email art.library@yale.edu for assistance).
Drop-in use is welcome, but priority will be given to groups with reservations, and drop-in users must relinquish the room if another group has a reservation for that time.
The Arts Library reserves the right to cancel a reservation if the group has not occupied the room within 15 minutes of the reservation start time.
Please do not sleep or eat in the group study rooms.
Group study rooms are intended for quiet discussion and are not soundproof. Please be considerate of others studying nearby.
Library staff routinely monitors all group study rooms and reserves the right to enter group study rooms at any time.
Doors to group study rooms are unlocked, so please do not leave personal items unattended. The library is not responsible for loss or damage.
Users must leave the room in the same condition that it was found. Both rooms have whiteboards; dry-erase markers are available for checkout at the service desk. Please use only markers provided.
Please direct any questions or concerns to the service desk in person, by phone at (203) 432-2645, or by email at art.library@yale.edu.
For Your Security
During the regular academic year, the library is open to the public Monday through Thursday 8:30am – 7:00pm and Friday 8:30am – 5:00pm. After 7:00pm on weekdays and all day on weekends, a Yale ID card is required to enter the building. If you do not have a Yale ID and need to access the exhibits and collections outside of these hours, please contact art.library@yale.edu to schedule an appointment.
Please monitor your belongings. The library is not responsible for loss or damages to personal items.
Last modified:
Thursday, September 20, 2018 - 1:54pm