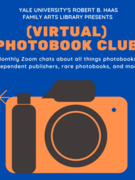 Virtual Photobook Club Events
We hope you will join us for the popular Photobook Club event series. The Virtual Photobook Club is an event series run by Yale's Robert B. Haas Family Arts Library focused on all things photobooks. Topics include: conversations about independent publishers, rare photobooks, personal photobook collections, and more! All events take place via Zoom and require advance registration. See the full event details and sign up here. 
The Arts Library offers a range of workshops on arts-focused research topics including how to find images, how to use Tropy for file management, and how to get started with research. See full list here.