We miss casually flipping through books and sharing recommendations face-to-face just as much as you do, so we've taken our book display and made a virtual pop-up! From Black History to Asia Pacific Heritage and LGBTQ+ Pride, each month we'll share a curated selection of items from the collection along with highlights from the Haas Instagram. Just click on the tab for the month and start scrolling here.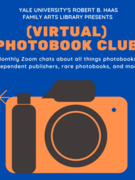 Virtual Photobook Club Events
We hope you will join us for the popular Photobook Club event series. The Virtual Photobook Club is an event series run by Yale's Robert B. Haas Family Arts Library focused on all things photobooks. Topics include: conversations about independent publishers, rare photobooks, personal photobook collections, and more! All events take place via Zoom and require advance registration. See the full event details and sign up here.