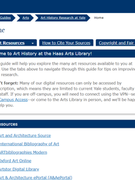 Arts Library Research Guides
Arts Library research guides are a good starting place for locating relevant online resoures for Art Practice, History of Art, Architecture, Theater Studies, and Drama. Arts Librarians are available for research consultations. 
Find guides here: https://guides.library.yale.edu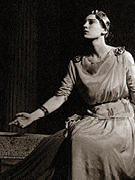 New Exhibition! Firsts and Founders: Early Women in Drama at Yale
As we celebrate 50 years of women in Yale College and 150 years of women in Yale's graduate and professional schools, a glance back into the archives shows us that women have been students, faculty, and staff in the Yale School of Drama since its beginnings as the Department of Drama in 1925. More...