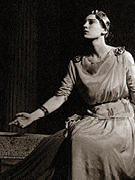 New Exhibition! Firsts and Founders: Early Women in Drama at Yale
As we celebrate 50 years of women in Yale College and 150 years of women in Yale's graduate and professional schools, a glance back into the archives shows us that women have been students, faculty, and staff in the Yale School of Drama since its beginnings as the Department of Drama in 1925. More...
Mark your calendars for the return of the Arts Library Photobook Club event series, beginning on Wednesday, February 5! Each month, we will host discussions on all things photo books: independent publishers, rare photo books and other photography in Yale's collections, and more! Check out the full schedule and details here.