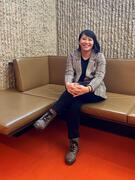 Pauline Martin began her position as Head of Arts Library Access Services on January 1st. In this role, she supervises six library staff who are responsible for a range of library services including basic reference, library circulation, course reserves, resource sharing (e.g., Borrow Direct, ILL), and stacks maintenance. Pauline was previously the Head of Access Services and User Experience Librarian at Southern Methodist University in Dallas, TX. Her Arts Library office is rm 113 and you can reach her at pauline.martin@yale.edu. Please join us in welcoming Pauline!
Library Workshop Calendar
The Arts Library offers a range of workshops on arts-focused research topics including how to find images, how to use Tropy for file management, and how to get started with research. See full list here.