September 17-December 14, 2018
Numbers can indicate quantity but also size, sequence, importance, and even identity. This exhibition presents a selection of works from Arts Library Special Collections that incorporate various aspects of numbers. The books on display include almanacs, maps, musical scores, poems, and puzzles. They employ both practical and theoretical approaches to numbers—from counting sheep (and even clouds) to exploring such concepts as time, distance, money, and magnitude. Other books examine the relationship between numbers and language or color. Whether system or symbol, concrete or abstract, numbers = meaning.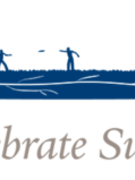 October 8-12, 2018
See examples of eco-friendly design at the Robert B. Haas Family Arts Library. Our temporary display case on the main-level bridge will feature books on fashion, architecture, and packaging. Additional related materials are available for browsing in our New Books area. Stop by and consider how art and saving the planet intersect during this year's Celebrate Sustainability week!