Bound-With Procedures. Appendix. Manual Procedures
OPTIONAL PRACTICE
Follow this procedure if the macro is not used.
1. Identify the first title in the volume. This title will be the "host" title.
2. Find the bibliographic record, and create an item record for that title if one does not already exist. If the volume circulates, add a barcode to this item record.
3. Go to the host title's MFHD or create one if the host title lacks a MFHD.
4. Following the subfield ‡i in the 852, add "‡z Bound with <Filmed with> <no.> other titles. To view other titles search by call number: <call number>." and save.
Example: For a bound-with containing 21 titles the note would read
852 ... ‡z Bound with 20 other titles. To view other titles search by call number: Gab 60.
Example for microfilm containing 10 titles:
852 ... ‡z Filmed with 9 other titles. To view other titles search by call number: Film B19036.
---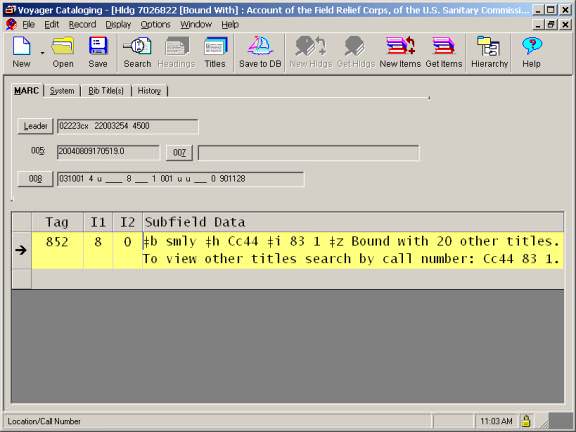 5. Verify that none of the guest titles have item records; delete if there. All of the MFHDs for the guest titles should be either suppressed or deleted .
6. Go to the item record of the host bibliographic record.
7. Make sure this item record window is active.
---
8. Go to "record" in the menu bar and select "Link to bibliographic".
---
9. Enter the bibliographic record number for the subsequent title (a guest title).
10. Click "OK".
---
11. Look at the "titles" bar of the item record to be certain the correct titles are now showing. The complete list of titles bound together appear in alphabetical order under the main title bar.
Note: You can choose any title from this list to display in the main title bar of the item record. However, at the moment the item record title bar does not provide access to the related bibliographic record.
---
For another view of this item and the linking records, view the hierarchy.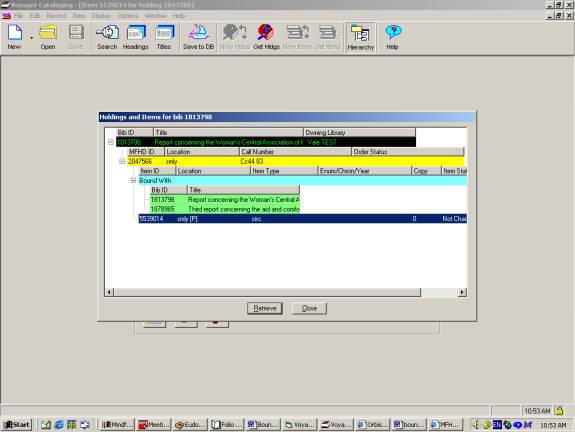 12. Repeat steps 6-11 for the remaining titles.
---
RELATED DOCUMENTS
Bound-with Procedures. Appendix. Unlinking Bibliographic Records
Last modified:
Thursday, October 15, 2015 - 3:29pm