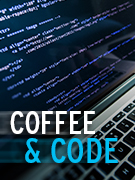 Coffee and Code Workshop: Web Scraping
July 14, 2:00-3:30pm in the Digital Humanities Lab (SML 316)
Learn how to gather data from online! Join the Digital Humanities Lab for a Coffee and Code session on web scraping, led by DH Developer Douglas Duhaime. During the workshop, participants will learn and practice the fundamentals by scraping a webpage (or subset of pages) from a domain of the group's choosing. In addition to tackling the "how," we will also discuss "why" and "when" web scraping is appropriate.  
Prior to the workshop, please ensure that you have Python 2.7 installed on your computer. To verify what version of Python you have, open the "Terminal" application and type: Python
Please bring your laptop to the session.
All are welcome; no prior programming experience is required. Coffee and tea will be provided!
Photos from the event: