The Gilmore Music Library is pleased to announce a new series of blog posts that will appear on our website, entitled Gilmore Insights. The purpose of this series is to highlight not only the amazing work being carried out by our staff and student assistants on a daily basis, but also to reveal the stories that lie behind many of the extraordinary items we come across during our efforts to make the Music Library's collections available to our patrons. In essence, the series is a way for us to share what we learn about our collections as we work with them. 
To kick-off this series, we are delighted to introduce Mary Jones, a student assistant in our Music Special Collections unit. Mary is currently working on processing the Goddard Lieberson Papers. Mary is a PhD candidate in the Department of Music. Additional examples of Mary's research into Lieberson are currently on display in Sterling Memorial Library's Exhibition Corridor as part of the Student Research at Yale University Library exhibit.
Goddard
Lieberson
, fondly known as "Mr. Columbia Records," became a 
modern-day impresario over the course of his nearly four-decade-long career in the record business. After joining Columbia's American Masterworks Division in 1939,
Lieberson
rose through the ranks to become head of the Masterworks Division and Vice President of the company, before taking on the role of President of Columbia Records from 1956 to 1975. The two scrapbooks featured here were given to
Lieberson
by Columbia in 1964 to celebrate his 25 years at the company. They are filled with pages upon pages of notes contributed by colleagues, collaborators, and friends. Taken today 
as cultural artifacts, the scrapbooks are a testament to
Lieberson's participation and influence in the record business and across the American musical community. He was admired by those around him, and seemed to have his hand in everything. 
The scrapbooks are impressive, in both a physical and a cultural sense. Letters of congratulations, thanks, and best wishes comprise two massive volumes — each volume measures 18 inches wide by 16.5 inches high and is 2.5 inches thick, filled to the brim with contributions. On the inside, each page is a different character. The books are rife with an eclectic variety of ink colors, letterheads, illustrations (and sometimes doodles), messy notes, and impeccable cursive. And on the outside, each hardcover binding features an imposing reproduction of Al Hirschfeld's portrait of Lieberson — a fitting point of entry into volumes overflowing with famous names from every corner of American culture.
Flipping through the pages of each volume may be the equivalent of flipping 
through
Lieberson's
own
Rolodex
, but to an outsider, the names look more like the guest list for the Kennedy Center Honors or the Academy Awards. Taken together, the names in these two volumes comprise a "Who's Who" of American popular and high art culture in the
1950s
and
60s
. As we might expect, the lion's share of contributions are from musicians that
Lieberson
worked with, though the genres and eras they represent are impressively broad. There are notes from musicians of every kind, including Leonard Bernstein, Eugene
Ormandy
, Aaron
Copland
, and Dave
Brubeck
. One especially large page is filled with the signatures of each member of the New York Philharmonic — the note is pasted in and doubled over to accommodate the number of signatures (see image below). Names of cultural icons, too, can be found tucked between the pages of musical figures: a note from Jacqueline Kennedy (written just months after JFK's death) directly follows a handwritten, congratulatory composition from Igor
Stravinsky (see images below)
. A number of congratulatory notes come from writers like Samuel Beckett,
Noël
Coward, and Truman Capote. And if the list above wasn't enough, luminaries of Broadway and Hollywood are scattered throughout: Stephen
Sondheim
, Cole Porter, Richard Rodgers, Mary Martin, Rex Harrison, Barbra
Streisand
, and even
Groucho Marx contributed, as well.
These scrapbooks are stunning and star-studded. They could be an autograph 
archive in their own right. Yet beyond providing the excitement of seeing so many famous names in one place, they demonstrate that
Lieberson
really was at the center of it all. He worked across disciplines and party lines, and he collaborated with established celebrities as well as up-and-comers. By the end of his career, it would have been hard to point to another executive so beloved and so respected by the entire American artistic community.
Lieberson was at the center of a broad network of artists and musicians, and the scrapbooks make that network tangible.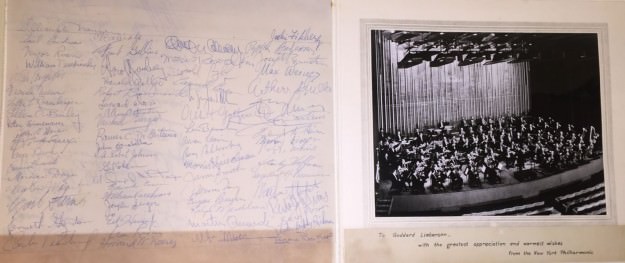 Large page signed by members of the New York Philharmonic, 1964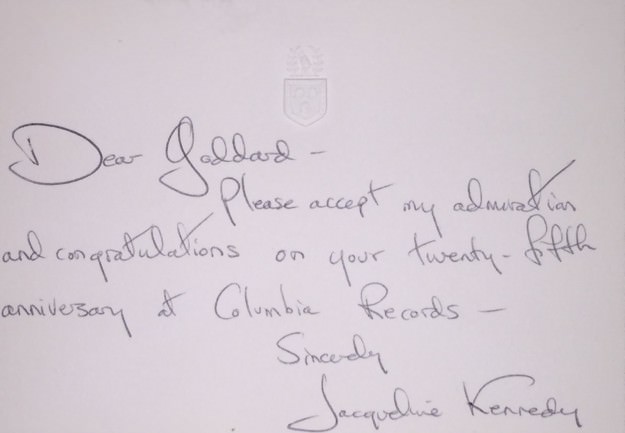 Note from 

Jacqueline Kennedy, 1964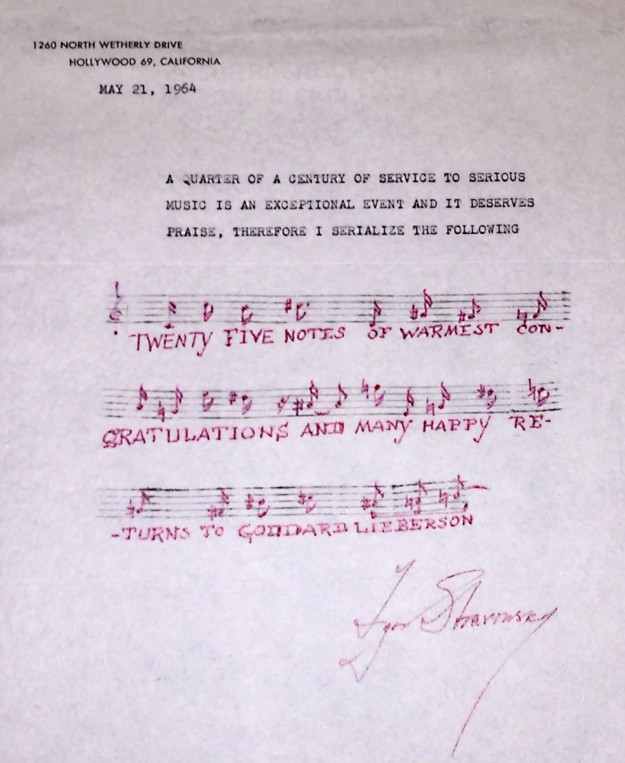 Note and "congratulatory composition" 

from Igor Stravinsky, 1964