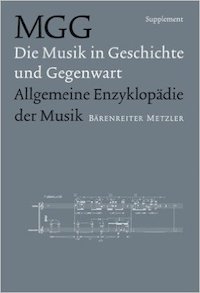 Die Musik in Geschichte und Gegenwart (MGG), the renowned music encyclopedia that has long been a core resource for music researchers, is now available online. MGG offers in-depth articles on every aspect of music as well as many related areas such as literature, philosophy and visual arts. 
The Yale Community now have access to MGG Online, which contains a digital version of the second print edition of MGG, published from 1994 to 2008, as well as current, continuous online updates and additions. MGG Online includes the ability to translate the encyclopedia's German source text into one of over 100 different languages, using a built-in Google Translate widget. While the translation is less than perfect, it does allow non-German speakers to understand the basis of each MGG article.
Additionally, the Yale Community also now have access to Bloomsbury Popular Music. Bloomsbury is a unique source of scholarship and serious in-depth analysis of popular music in a global context. It includes the entirety of the Bloomsbury Encyclopedia of Popular Music of the World, the 33 1/3 series of books exploring key albums, and much more. 
For information on MGG, Bloomsbury and all of the other notable music focused databases available to the Yale Community, please see the Gilmore Music Library's recently revamped Music Databases Guide.