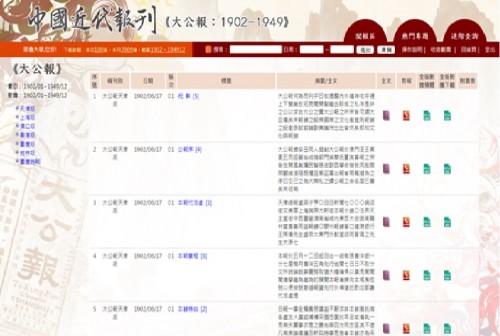 Yale University Library has acquired the access to a newspaper database for modern China: Ta Kung Pao Full-text Database 大公報, 1902-1949. The database allows unlimited concurrent users and has been added to the Library's Quicksearch, Find a Database by Title, and Chinese Studies subject guide-Newspapers. Information of off-campus access to Yale subscribed electric resources can be found through here.
Da gong bao (Ta Kung Pao 大公報), a highly influential newspaper in modern China, was first published on June 17, 1902 in Tianjin. The database provides all old issues of the Tianjin, Shanghai, Chongqing, Hankou, Hong Kong and Guilin editions. Currently, the database includes at least 2 million pieces of news and 200,000 high resolution images.
Please feel free to contact Michael Meng, Librarian for Chinese Studies, if you have any questions about this resource.