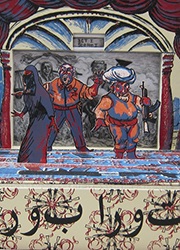 The Book As Stage: Performance and Theater in the Book Arts
September 26 – December 18, 2016
The book format has long been used as a vehicle for artistic expression. This exhibition focuses on the presentation of theatrical texts and documentation of performance in the book arts. The objects on display showcase the space of the page in fine printing and modern typographical renditions of dramatic works. Examples from the British and American fine press movements are representative of a traditional approach to the presentation of theatrical texts. In contrast, graphic designers use the visual space of the page and a variety of letterforms to express the dynamism of the performance. The book may seem static; however, like a performance, the story unfolds over time through the action of turning the pages.
Additionally, this exhibition explores the space of the book itself as a place for performance. Examples of puppetry, portable stage sets, tunnel books and other sculptural formats reveal how artists use the book in surprising ways. These interactive works invite audience participation—by setting up a miniature stage set or creating their own story with puppets, for example. Other works draw readers into another time or place through performances captured and transformed by innovative physical formats.
Image: Tora Bora by Art Hazelwood. Image used with permission.