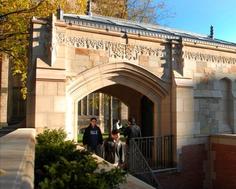 Anne T. and Robert M. Bass Library
Location
Mail to Yale University - Bass Library c/o Access Services
344 Winchester Avenue (Docks 7/8)
The Anne T. and Robert M. Bass Library, formerly known as Cross Campus Library, is a place of both quiet study and dynamic interaction among students, faculty, librarians, and curators.  Teaching and learning are integrated with technology, and supported by a collection of approximately 120,000 volumes in subjects most commonly taught in Yale College, as well as books by faculty.  Bass Library is connected to Sterling Memorial Library via the Wright Reading Room, which occupies the space formerly known as "Machine City."  The Bass Library was designed by Hammond Beeby Rupert Ainge Architects (HBRA) and was re-opened at midnight one evening in October 2007, in the presence of over one thousand members of the Yale community.
What's Available:
Outdoor Space
Printer
Public Computer
Natural Light
Monitor/Projector
Individual Tables
Large Tables
Scanner
Tech/Media Equipment Loans
Individual Study Rooms
Group Study Rooms
Chalk Board/White Board
Coffee/Snacks Nearby
ATM Machine
Eli Express Delivery Location
Food Allowed
Electrical Outlets
Couches
Conversation Allowed
Hours
Accessibility
The building is wheelchair-accessible. An outside elevator (located in the pavilion entrance to the Thain Family Cafe and the Bass Library) will take the reader directly to the Bass Library.
To get to the Sterling Memorial Library from the Bass Library, readers with wheelchairs should take the elevator one level up to the tunnel connecting Bass Library and Sterling Memorial Library. Once through the tunnel, in the Wright Reading Room, turn left to the elevator and proceed up to the main level and the Sterling Memorial Library nave.
Classrooms are available on a scheduled basis for persons with reading assistants.  All individual study rooms are wheelchair-accessible and sound-proof for persons requiring space to work with reading assistants, play audiotapes, take oral examinations, etc.
Access
After 6:00 p.m., a Yale ID card or a library-issued pass is required to enter the library.  Before 6:00 p.m., the library is open to the public.  See the library hours section above for the full hours of operation.
Special note for tours: Only Yale-led tours are allowed to enter the building.
Directions
From the New Haven Green or Phelps Gate on Old Campus, take College Street north to Elm Street. Make a left onto Elm Street. Go past Calhoun College and Berkeley College (on your right). At High Street, turn right and follow the cement pathway. Sterling Memorial Library will be to the left; and the Women's Table sculpture on your right. Turn right and walk down the stairs. Enter the Bass Library from the pavilion on your left.